Pond Installations
The Iron Sleek Pond Bracket makes it SIMPLE to enhance your pond skating experience. If you are sick of unpredictable snow bank rebounds and play stoppage because of lost or stuck pucks, these ice rink brackets are the answer for your pond enclosure.
Watch this video below to learn some more about the Iron Sleek Pond Bracket
-The Iron Sleek Pond Bracket is made of steel for strength and flexibility.
-Adapts to standard 2 by lumber for MAJOR COST SAVINGS or it can be used with plywood for taller enclosure boards.
-The bracket is powder coated in Ultra White to reduce sink down and prevent rusting.
- It has a streamlined design similar to the Iron Sleek earth and turf bracket to reduce tripping hazards while remaining aesthetic and cost affordable to ship.
-It also comes with insulating foam that can be placed under the bracket to help keep things locked down for those warmer or sunny winter days.
The Iron Sleek Pond Hockey Bracket can be spiked it into the ice or you can bolt it into the ice with Tap Cons.
If you want to minimize labor and cost for putting up pond boards, simply use 10 foot long 2 by 12s with our Iron Sleek ice rink brackets supporting the boards only at the seams. Pond hockey boards will enhance your hockey skating experience with solid and predictable board rebounds that simply make hockey a better game for everyone.
2 by 12 Lumber side walls on the pond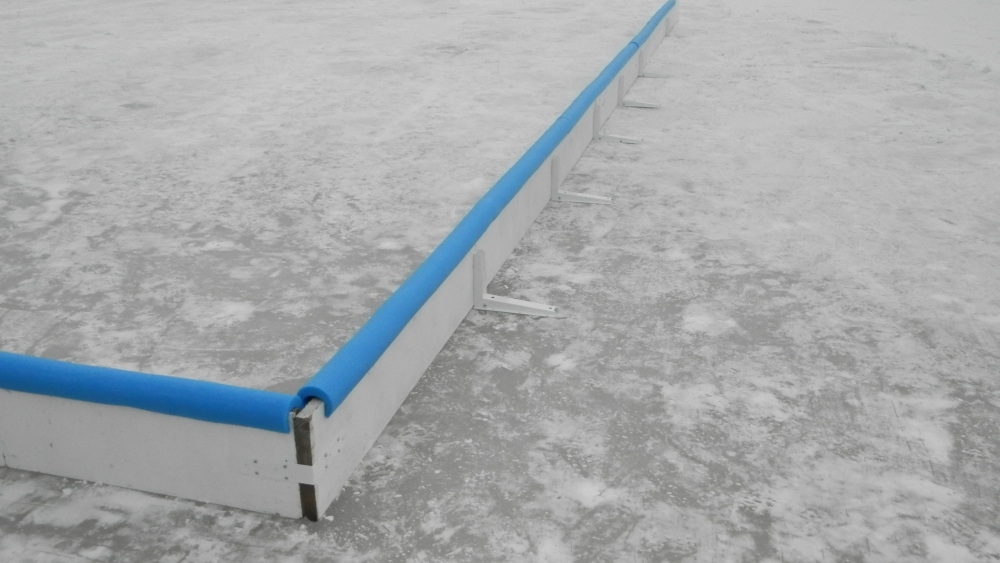 Poly Steel on the Pond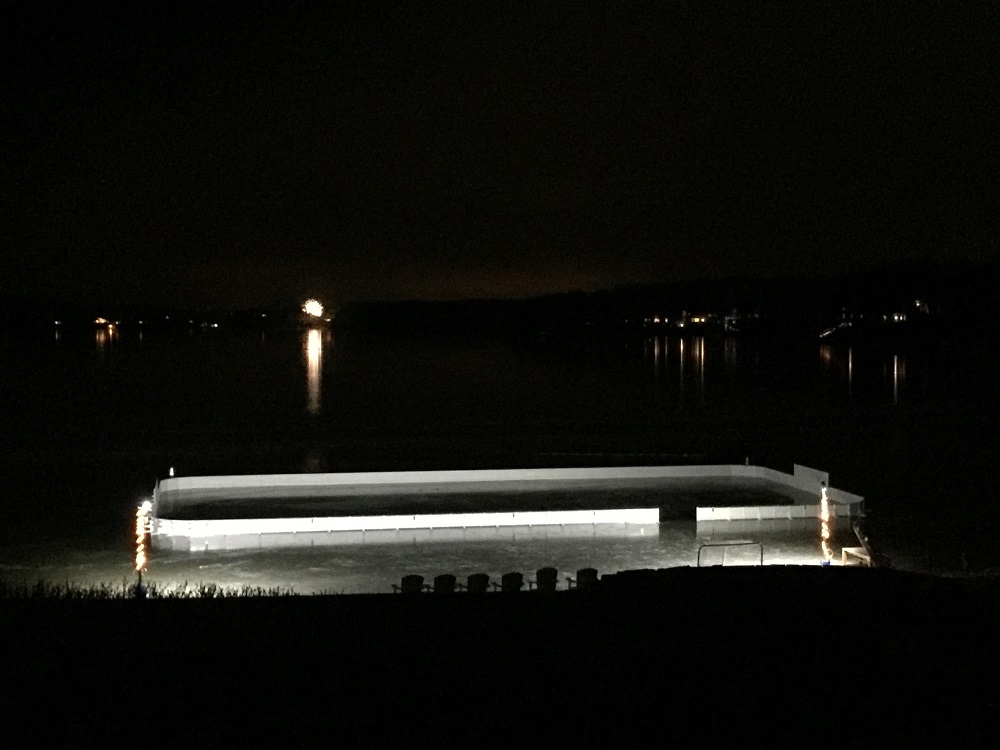 The Iron Sleek pond bracket will accommodate most of your Pond Hockey Board needs. If you want to use Iron Sleek Poly steel boards as pictured above or want to pin up 2 foot plywood boards, our ice rink brackets will get the job done for you. Space the brackets every 4 feet for plywood boards and away you go. See Picture below:
Rink on Pond or Yard??
Should I build an ice rink in a yard or pond? Setting up a rink on a pond is well worth it and makes for an amazing nature experience. Many underestimate the challenge and effort of utilizing a pond for a rink. We have customers who do both. See Picture Below: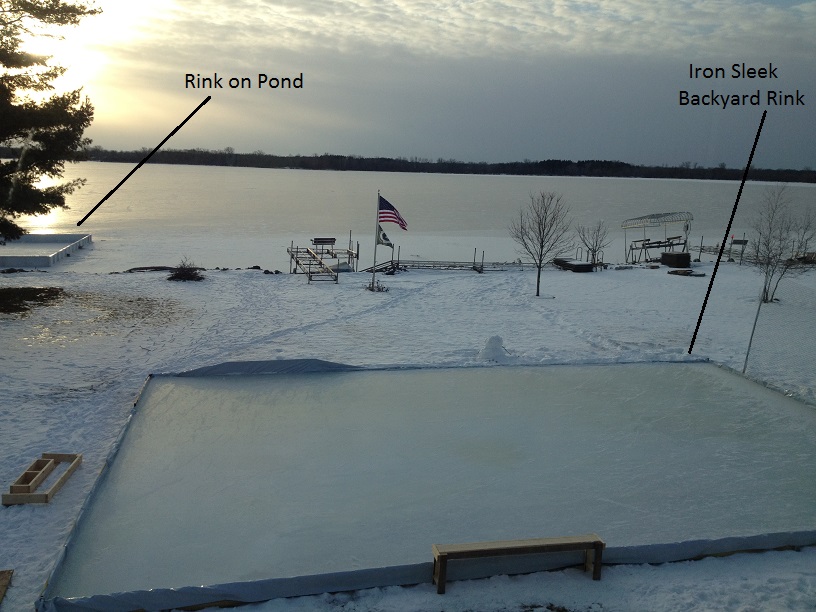 ----Here are some of the Pros and Cons of building a rink on a pond vs in a backyard.----
Preparation Period:
Pond rinks are limited on what can be prepared in advance. You have to wait until you have a deep freeze to even get started. On the other hand, a backyard rink can be in place well in advance. Many build their backyard rink before Thanksgiving while the weather is still mild.
Pitch or Grade:
Pond rinks start off as a natural bodies of water so they are perfectly level while finding a relatively level site is the biggest challenge associated with backyard rinks. Most backyards have pitch by design to steer rainwater away from a home. For backyard rinks, pitch is always addressed. For ponds, pitch or grade is a non-issue.
Size:
One of the biggest draws of a pond rink versus a backyard rink is that a pond rinks can be enormous. I have seen skating rinks on ponds that are multiple acres large. Truly spectacular! Also, on a pond, rinks can be divided into multiple rinks. I have skated a 5 acre frozen pond on Keystone Lake in Colorado. It is quite amazing.
Length of Season:
The skating season starts earlier with backyard rinks because of the ice rink liners by Iron Sleek reflect the sunlight instead of absorbing it into ice melting heat. Also, backyard rinks have shallower water depths which freeze more quickly. Ponds, on the contrary, are usually dark and murky and significantly deep. Depending on the weather conditions, pond ice is sometimes called Black Ice. In conclusion, the pond season starts much later than the backyard rink season. On the tail end of the season, the backyard rink usually wins out as well because of shading. Ponds are usually fully exposed to sunlight while the backyard rink can be shaded by shadows cast by nearby trees and buildings. Check out our Iron Sleek customer up in Northern Wisconsin in the picture below who is giving a top coat to his early December frozen backyard Iron Sleek ice rink kit. He had been skating for weeks while the lake behind his house is still wet water blue.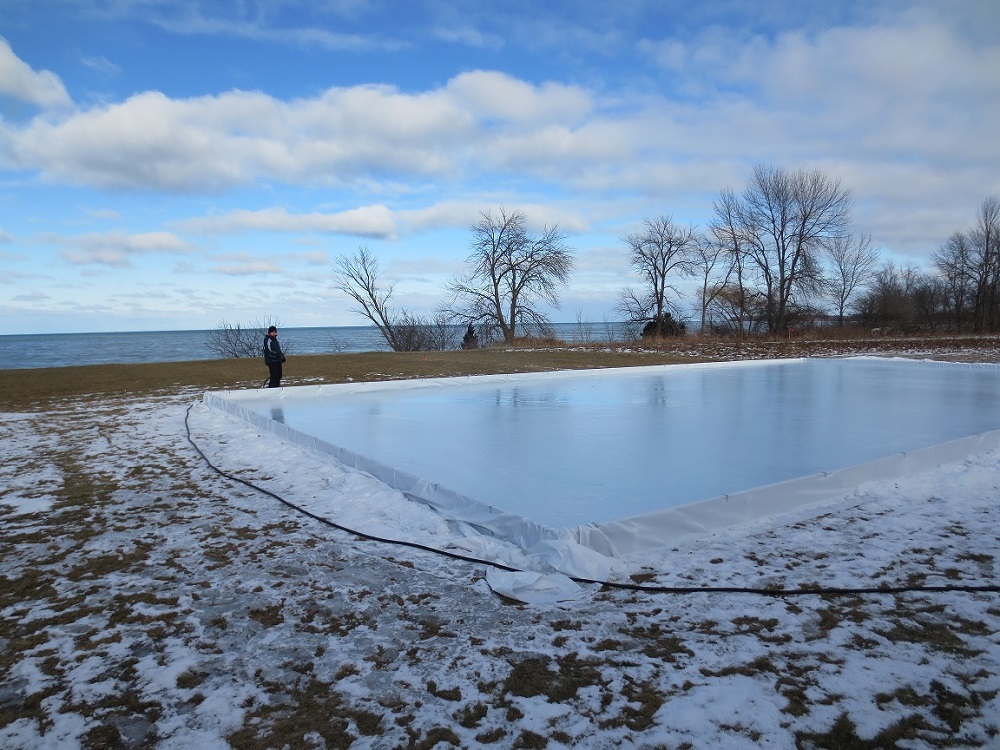 Weather:
In Chicago, my home town where the weather is very cold, it is still hit or miss that we can skate on nearby ponds while we have never missed a year skating on our backyard rinks. We have customers in more mild climates like St. Louis and Cleveland who successfully skate on backyard rinks but never get quite cold enough to skate on a lake or pond. Skating on the pond is a privilege that is not available to all of Canada and the US. You have seen in the picture above that our customer in Minnesota does both.
Set-up:
Set-up on a pond can be as simple as giving an already frozen area a quick snow shovel and away you go. Some pond skaters are satisfied with snow banks for Pond hockey where the effort is minimal while other like to go all out by putting in containment boards. If you choose to put in containment boards, like they do at most of the Pond Hockey tournaments in the US and Canada, that makes things a bit more complex. Boards need to be transported a longer distance but, luckily, once you are on the pond, they are frictionless so they are easy to slide into position. I recommend using standard 10 foot long 2 by 12's covered in Iron Sleek Board Wrap supported by Iron Sleek Pond Bracket at the seams. With the Iron Sleek pond bracket, pond enclosures go up quickly. Setting up a backyard rink definitely requires more work than setting up a rink on a pond. To build a backyard rink, you need to build a sturdy enclosure with the Iron Sleek brackets and follow the 3F method, Frame, Fill, and Freeze. On a basic pond, you just need a single "F" which is for Freeze. The labor for the pond is that materials are usually a long way from the driveway or street.
Freeze-Thaw-Risk:
Pond skating on marginal ice conditions can be dangerous for obvious reasons. On a backyard rink, a skate through the ice can end your season by putting a tear in your liner. In both circumstance, marginal ice is a definite no go for skating but on a backyard rink it is less dangerous. Another concern on the pond rink is board melt down. Be sure to take down your pond enclosure while the ice is still solid. You do not want to risk taking the pond enclosure down on marginal ice nor would you want your boards and brackets to sink down into the pond. For the backyard rink, the risk is the grass. If the backyard rink is not torn down before the lawn comes out of dormancy, some of the lawn can be damaged. When this is done properly, however, your lawn can come back even healthier than the previous year. Another risk consideration is the "Fire Pit". A bon fire is nice for keeping warm but poses a risk factor on both the pond and the backyard rink; however, on the pond the fire creates additional risk because the heat induces cracking and melting on the pond's ice surface. One more thing, be careful to not drive anything too heavy on the rink. Check out the picture below from the Denver Post where a Zamboni broke through the ice. www.denverpost.com/recommended/ci_14644093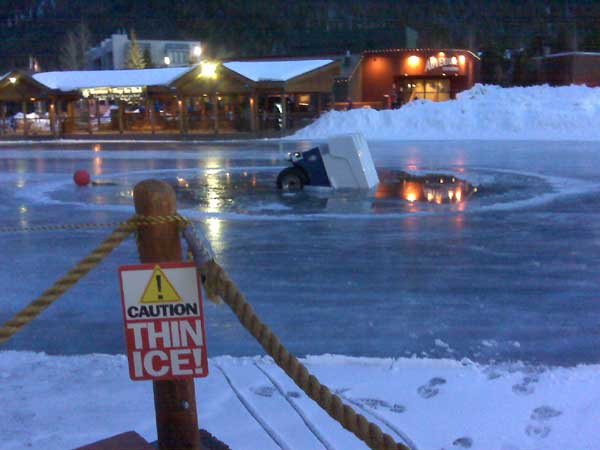 Cost:
A rink on a frozen pond is hands down less expensive than a backyard rink. Rink boards are optional on a pond or lake while in a yard there is no choice but to create a rigid board containment to hold water. So for a backyard rink you would have the one-time cost for lumber and Iron Sleek Hardware to build the rink frame. In addition to the one-time cost for the rink boards and hardware for a backyard rink, there is a reoccurring cost of water and that of a new Iron Sleek 6 mil Liner. Even our best seller 20 by 46 Iron Sleek Starter Kit requires on average 5000 gallons of water. In Chicago, we pay $15 per 1000 gallons of water used…that is $75 of water for a starter kit. For bigger rinks, the cost of water is significantly more. On a frozen pond there is virtually no cost associated to water.
Conveniences:
A backyard rink wins the argument for convenience. A backyard rink can be just a few feet away from your warm home, your refrigerator, and the bathroom. Maintaining a backyard rink is also much easier since everything you need is in the house or the shed. Most importantly, at your home, there is access to ice healing hot water and ELECTRICITY. Darkness falls upon a Chicago winter before 5 PM. Lighting is essential to the get the most out of your rink. Check out the Iron Sleek Lighting kit to help you set up lights around your rink. It is well worth effort and money. Snow removal is more challenging on a pond and a pump is needed to pull up lake water for resurfacing.
Other Considerations:
-Backyard rinks are more personal and private since they are on your very own property while frozen ponds are usually community shared. Both are aspects are nice.
-Frozen ponds are 100% natural. They are quiet and peaceful.
-Backyard rinks are better for hosting parties and entertaining.
My Choice:
I would want both a frozen pond and a Backyard Rink . Unfortunately, I don't live on a lake so I only build what we call in the Parks and Recs section of the Iron Sleek site called a Hockey Rink Hybrid. I use the outrigger bracket with the Iron Sleek brackets to put up tall backboards behind the goals with rounded corners. In mid-January, in Chicago, I am surely scoping out the lakes and creeks looking for an awesome private place to take my kids to skate on a natural body of water. I know they think I am nuts since we have an awesome rink in the yard but it is these crazy things in life that they will remember and cherish.