Boards
Sports Enclosures
Building an ice rink on a sports court, tennis court, or parking lot has now become easy with the Iron Sleek Hard Court Bracket!
Concrete, asphalt, and tennis court scenarios are customer specific so Iron Sleek has develop the Iron Sleek Hard Court bracket to provide you solutions for these challenges.
Screw it Down
The Iron Sleek Hard Court Bracket can easily be secured into the ground using a drill to install TapCons or Concrete Anchors. When the brackets are removed, reuse the pilot holes next year.
Spike It
You can utilize the center holes to spike it down into a predrilled hole.
Sleeper Method
If you do not want to bolt directly into the hard surface or you want minimize the required holes. The Iron Sleek Hard Court bracket can be screwed onto to a 2 by 12's resting flat onto the hard surface. We call this the "sleeper board" method. The pictures below best explain this:
With the sleeper method, the Iron Sleek Hard Court Bracket is screwed to a 2 by 12' as shown:
To keep the boards from sliding back from the water pressure or from skating impact, another 2 by 12 sleeper board stretches back to the fence posts. See Picture Below:
Against the Fence Post
If you want to use your fence posts for support, you can utilize the notch on the back end of the Iron Sleek Hard Court Bracket to cup and support the brackets as shown.
Parking Stops
In the case where you are building your rink in a parking lot, you can take advantage of tapered body of the Iron Sleek Hard Court Bracket. The bracket is designed to wedge underneath a concrete parking stop.
Patio Pavers
Use these brackets on patio pavers. Simply pull up a paver and drive a spike into the paver base gravel. When the season is over, you can put the paver block back in its place.
Stake them into Gravel
If you have to build a rink on gravel, the Iron Sleek pond bracket grips down solid through the stake holes.
Bumped up against Garage or Landscape wall
Some rinks are built in tight confinements, i.e. right up against structural walls. The Iron Sleek Hard Court bracket has a flat rear edge so that it could securely fit up against a building wall or landscaping structure.
Sand Bags or Weigh Down
In scenarios where you are even further limited. The Iron Sleek Hard Court Bracket can be weighed down with sand bags. Take advantage of the wonderful bottom flange once again and mount a short sleeper. The sleeper will act as a shelf to weigh down the bracket. IT IS STONGLY RECOMMENDED TO UPGRADE YOUR LINER TO STRING REINFORCED if you sand bag or weigh down your liner. See picture below for example.
Late Winter Season Rink Installs
In mid-January, when the ground is usually frozen and hard as concrete, utilize the stake down option to hold up your boards on a frozen lawn.
Please call us at 877.825.2334 to discuss hard court options for your rink!
Court Examples:
Check out these court conversions to roller: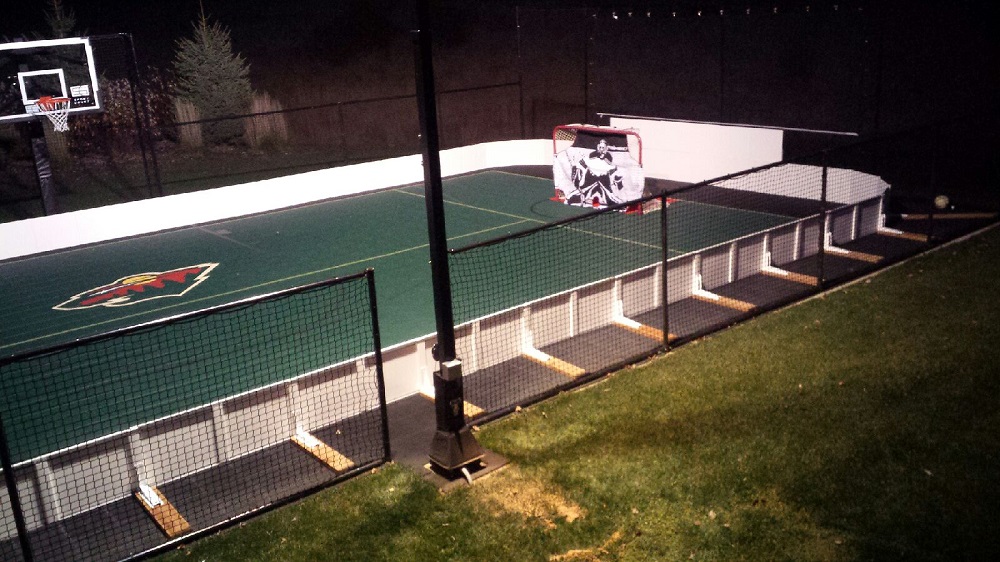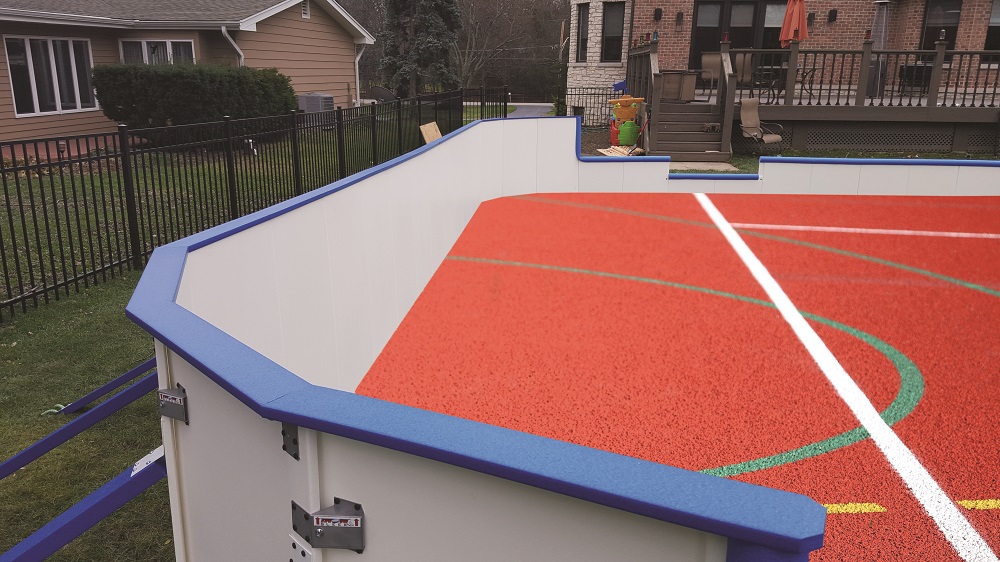 Who thought a driveway could be so much fun!!
Soccer containment too!
Imagine the possibilities for rec rooms in basements, garages, and other rec areas.
Finished Hockey rec room with Synthetic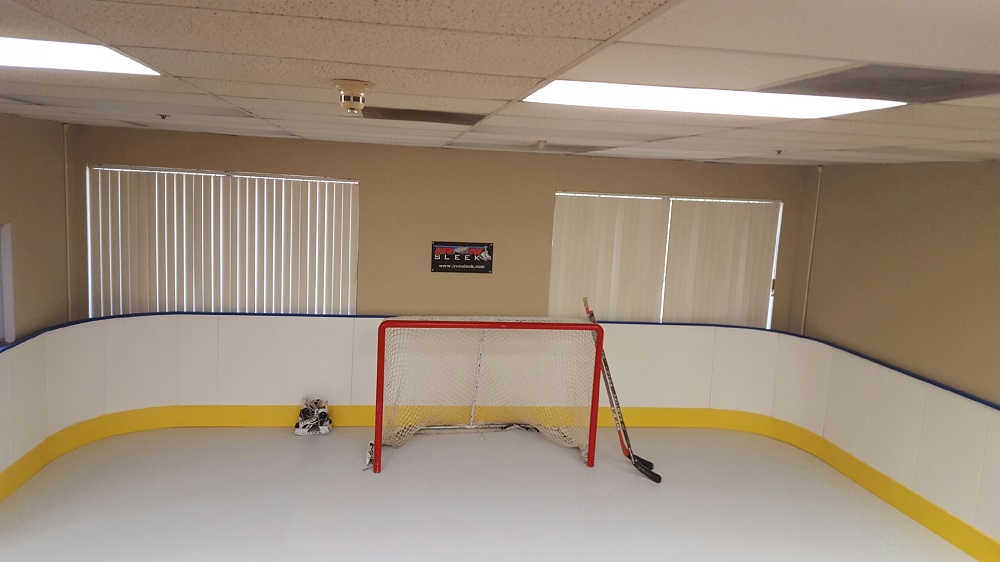 Lets skate!!! Anytime-anywhere!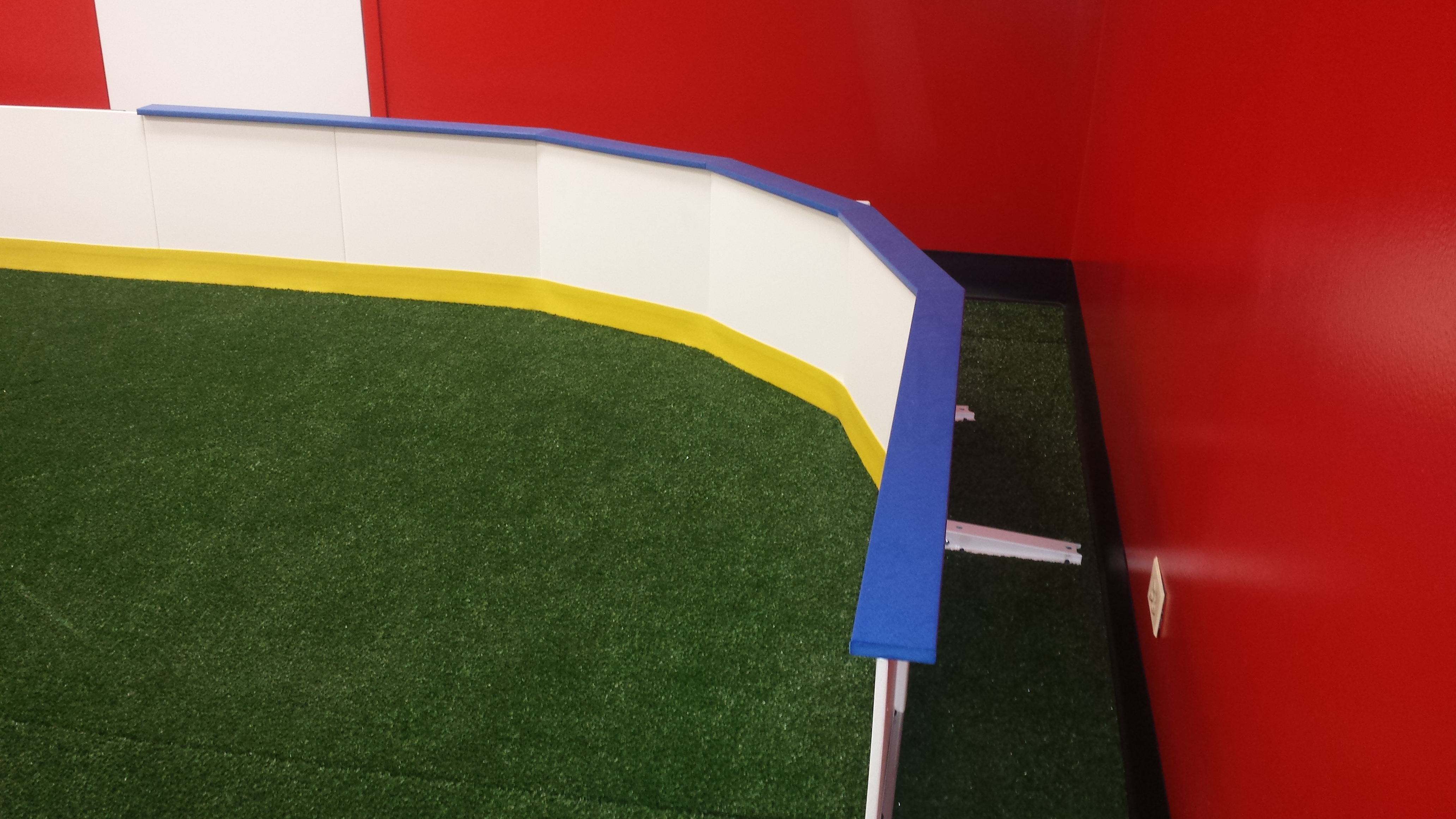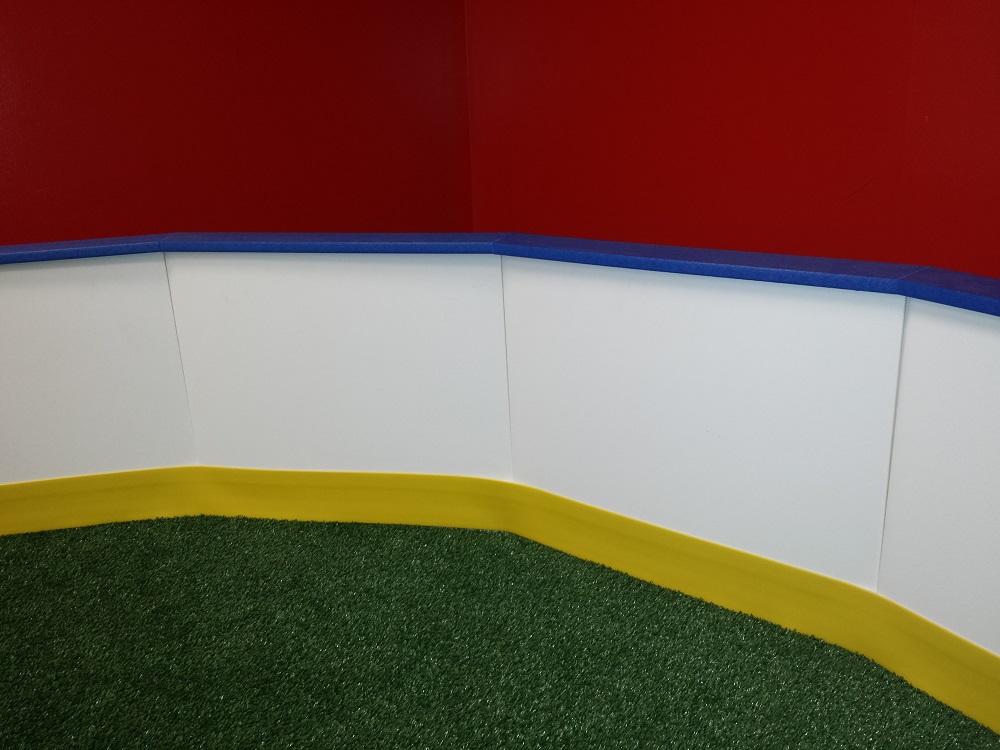 Please call us at 877-825-2334 to discuss your Sports Hockey enclosure. We look forward to helping you transform your play pad to a sporting rink or brainstorming a basement rink, maybe, a rink in your garage.
---