Ice Rink Finishes
When using plywood for side boards, it is important to tie together the tops of consecutive boards so that the upper corners stay aligned. Iron Sleek stocks an easy to use a mending channel which provides several benefits. The mending channels fit over consecutive boards, sandwiching the boards together with steel. Because the mending channel provides the strength through sandwiching the boards together, only two screws are needed.
Rink Topper
Iron Sleek offers rink perimeter foam in UV resistant blue. Our rink topper will enhance the look of your rink, hold your liner in place, and help to give you perception against a snow covered landscape. Rink topper is designed to work with both plywood and 2 by 12 lumber. It is UV tested to keep color and should last you several seasons. If you want something more elaborate, check out our cap rail.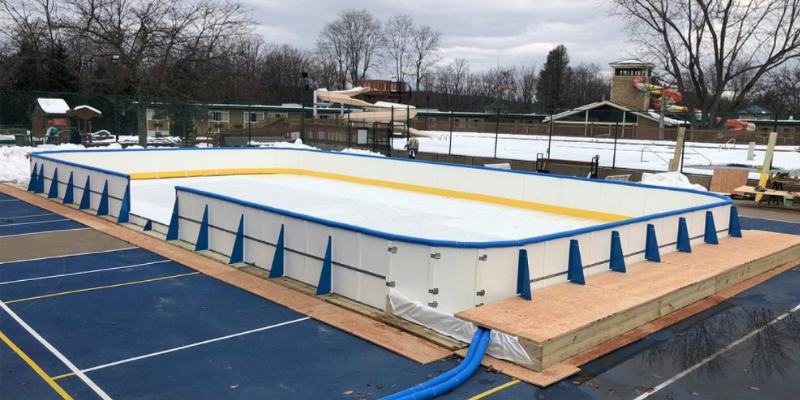 Cove Base
What do I do about uneven ground? How do I fill the gaps under my rink boards? Cove Base is the answer! Cove Base is made of a high density foam in the shape of a triangle. The triangular shape allows the pressure of the water to naturally tuck and fill the gaps.
Keep in mind that underneath your sheet of ice, you will most likely still have water. Rarely does a rink freeze 100% throughout. Your backyard rink is like a frozen pond in a sense and you need to take precaution against creeping or rattling boards that can cut you liner from below. Weather patterns of freeze and thaw, skaters, and hard hit pucks will rattle your boards. With our cove base, you will be better protected against those nearly unrepairable failures. Keep in mind that plywood is especially sharp and could have splinters. Cove base goes a long way in protecting against this.