Leveling Your Rink
Site selection is extremely important when deciding where to build your ice rink. Slope, pitch, location, utilities, and shade are all important factors in choosing an optimal rink location. The top concerns when choosing your ice rink site are:
Ground Conditions & Slope
Rink Size
Water Accessibility
Shading
Light Options
Planning appropriately and choosing the right rink location will cut down on build time and headaches. When planned for properly, Iron Sleek rink installs are smooth and hassle free. The most important factor to consider is the ground conditions of your planned install area.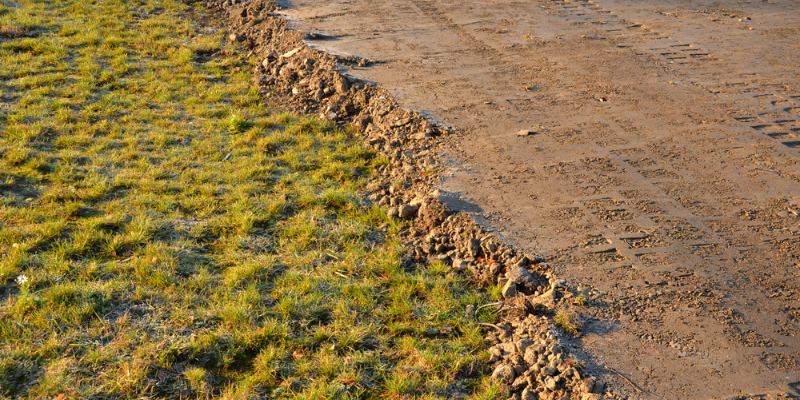 GROUND CONDITIONS
Choose a location with the least amount of slope and firm ground. Firm ground will help keep your brackets solid in the ground. It is probably best to not build a rink above a septic tank or septic field. A septic could act as a warmer from below - if snow melts in that spot so will ice. If you have to negotiate a patio area or a hard court area, no worries. Iron Sleek has hardware that makes concrete and asphalt installs easy.
Level is always better. A level rink requires less water and ultimately freezes and skates better. However, yard slope is a reality. The best way to measure slope is with a laser guide, but a taut string with a line level should get you within a few inches. Find the high spot first and then take measurements from that location.
Most of the time, the high spot is found in the center of the yard closest to the house so water flows away from your home. Use that as a reference and start taking your measurements. For estimating the water level, consider 3 to 4 inches of water at the low spot. Yard slope can be mitigated by adding extension brackets and making the boards taller where the water levels will be higher.
If you are using plywood, just cut the boards to the height you need. Usually, your lumber supplier would be able to cut the boards for you. Be sure to use the Iron Sleek mending channel at the board tips to keep your plywood from rabbit earing. Do not let a highly pitched site be a project stopper. If you have over 16" of water, use our outriggers for support.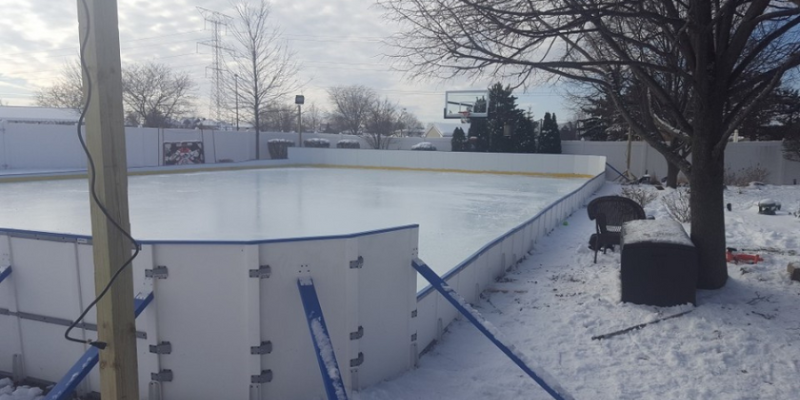 RINK SIZE
Choose a location that will accommodate the size of your rink. Select the right size rink for your family and your budget. It is easy to start out with a smaller rink and expand from there. Some rink install locations may not be big enough to keep it on one install surface. For example, you may want a 50' x 80' rink, but 10' of the rink will be on a concrete patio while the rest is on grass. This is not a problem - we have the hardware and expertise necessary for any install. Simply account for slope and pitch and plan from there. Our Iron Sleek project managers are always available to help!
WATER ACCESSIBILITY
Chose a location near a water supply. Your rink will require a fill up and regular maintenance. Make sure you place your rink in a location where you can easily fill it up. If possible, place your rink near a hot water supply so that you can easily resurface and maintain your rink.
LIGHTING AND SHADE
Choose a location that will minimize afternoon sunlight. The afternoon sunlight softens ice on marginally cold days. The morning sunlight is not as bad because mornings are typically colder. Great shade helps extend the skating season. The downside of shade is that you usually spend a lot more time with branch and leaf clean up.
Picking a location near power outlets is a good idea. This often gets forgotten because we are dreaming up our rinks early in the season. It is dark before 5 pm in the winter. If you want to enjoy your rink to the fullest, be sure to install lights or install your rink near a lighting system. We offer a post kit to hang lights from if you are looking for a custom lighting solution.