Installing Rink Boards
The most common choice for DIY rink boards are 2 x 12's or 3/4" plywood. With Iron Sleek, you have the freedom to use what you prefer. If you are looking for more of a professional hockey rink look, utilize our Poly-Steel rink boards.
2" x 12" Lumber Boards
Our rink kits are designed to offer top value by using 2 x 12's. With 2 x 12's as boards you will be using the most cost effective method to build an ice rink. 2 x 12's require fewer brackets because of their rigidity and they will require fewer wood cuts. They are available in many different lengths at almost any lumber store. You also have the option for rink rounds in your corners with 2 by 12 lumber and plywood.
Lumber is a great choice for building a skating rink. Another benefit of lumber is that it is milled with a radius edge which helps prevent liner cuts where plywood has a sharper splintery edges. Some disadvantages of using lumber for an outdoor rink is that that lumber is heavy and sometimes boards can warp if not stored properly. Iron Sleek base cove works out great to fill the gaps on warped boards. Some other challenges with 2 by lumber is that the boards are heavy and they can split along the grains.
Treated lumber is not necessary unless you plan on leaving your rink set up out in the elements year round. Treated lumber costs more and is much heavier. Since the liner will protect the boards during the rink season, treated lumber is not required.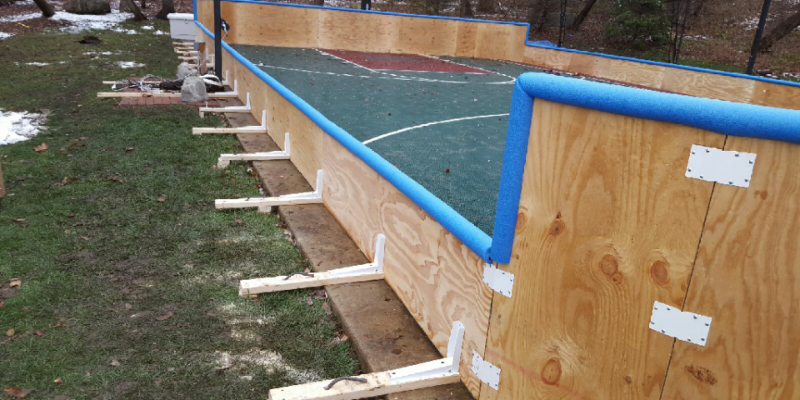 3/4" Plywood Boards
3/4" inch plywood is a better choice for rinks that have a long section of very high water and for ice rink builders who want more of a hockey rink feel. Although plywood will cost a bit more money than lumber and will require more brackets because it is not as rigid as lumber, it is still well worth it to those who want higher rink boards. Plywood is also easier to move and store than lumber, as it is lighter. Plywood boards come in 4' x 8' sheets.
The most common practice is to cut them in half with a circular saw and to support the boards with an Iron Sleek bracket at the seams and every 4 feet. In addition, it is critical to bind the tops with mending channels at all seams. If you are using plywood, keep in mind that plywood has very sharp corners. To prevent liner tears, use our cove base to protect your liner from splintered plywood.
Plywood has several benefits for building a backyard rink. Plywood boards can be ripped to accommodate water levels where lumber must be stacked. Plywood can be framed and painted to look and feel like real hockey boards. Plywood boards store easier since they are actually half the thickness of 2 by lumber.
You will need base cove to protect the liner because the edges are sharp and could cut the liner from below. Cove base is critical with plywood especially when water levels exceed 11 inches. Plywood flexes so the board will not appear straight even though they are installed straight. The water pressure and ice expansion will show board flex throughout your rink season.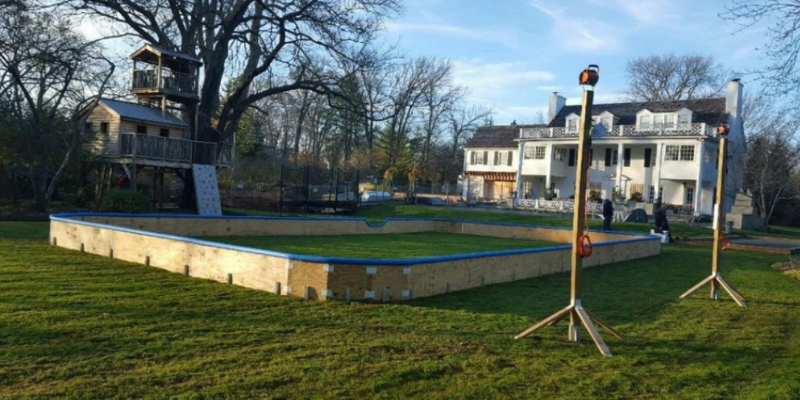 Iron Sleek Poly-Steel Boards
Iron Sleek Poly-Steel Rink Boards are simply the best ice rink boards or outdoor hockey rink boards on the market today. Poly-Steel boards by Iron Sleek are easy to install and will last a lifetime. Iron Sleek offers the most durable ice rink boards, hockey boards, and rink enclosure boards available on the market today. We give you various alternatives for updating and expanding so that you can construct your rink according to the specifications you require.
Because of the flexibility of our rink system, you are not restricted to a certain layout or dimensions; rather, each rink can be constructed in an entirely bespoke manner. Custom cuts can be made to the ice rink and hockey boards, doors and entrances can be constructed, and a variety of different finishes are available.
Our outdoor ice rink as well as our hockey boards are designed to be resistant to a wide variety of weather and environmental factors. Iron Sleek Poly-Steel hockey boards are created using an extruded HDPE poly-profile and custom galvanized steel channel supports as the primary materials of construction. Our rink boards are made of solid HDPE, which is a robust and long-lasting material. Each panel is 4 feet broad and half an inch tall, with vertical poly-steel reinforcements every two feet across the thickness.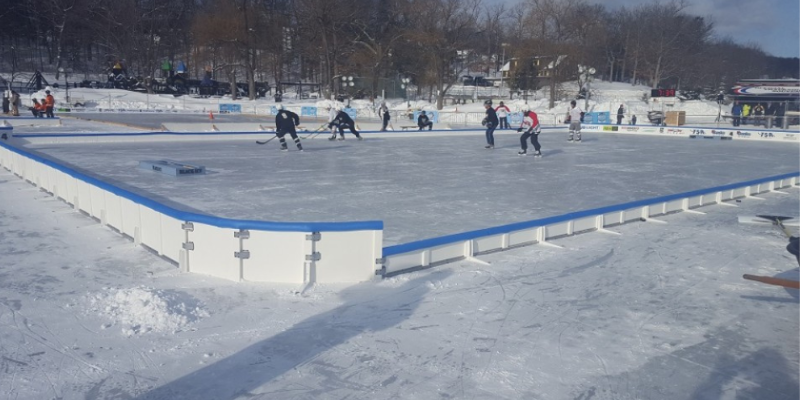 The use of support channels made of solid steel provides the additional strength as well as the temperature stability required for outdoor ice rinks and hockey rinks. Iron Sleek rink boards are simple to install and remove, and they may be put either temporarily or permanently for use all through the year. Each board is designed with an incorporated vertical lap joint that makes installation on uneven ground simple. This joint allows the boards to move slightly with the curve of the ground while still preserving the enclosure of your rink.
An awesome feature of Poly-Steel boards is that boards can be cut in the field by our customers to custom fit their project requirements. This is a very unique capability that is easily accomplished with our board system. It is very useful for rinks that have borders or for optimizing size in a backyard. Poly-Steel boards are standard 48" long from the lap joint edge to the board edge. It is very important to understand that the lap joint is not part of the length of the boards. The lap joint section of the board should not be cut.