Minnesota
The folks of Minnesota where the first to embrace Iron Sleek's backyard ice rink products. It is the hockey loving people of this community who have inspired us to release new products to solve some of the toughest ice rink challenges. This year, we introduced the Iron Sleek Pond Hockey Bracket first seen in St. Paul at the "Let's Play Hockey Convention." Iron Sleek teams up with Lets Play Hockey out of Eden Prairie every year starting in September and ending in February to help get the word out on our ice rink solutions ending with the world best hockey convention. This convention is strategically timed with the Minnesota high school's state hockey championships which Iron Sleek has grown to love. Minnesota hockey is simply awesome!! We also work closely with USA Hockey Magazine out of Minneapolis to help get the outdoor ice skating season started.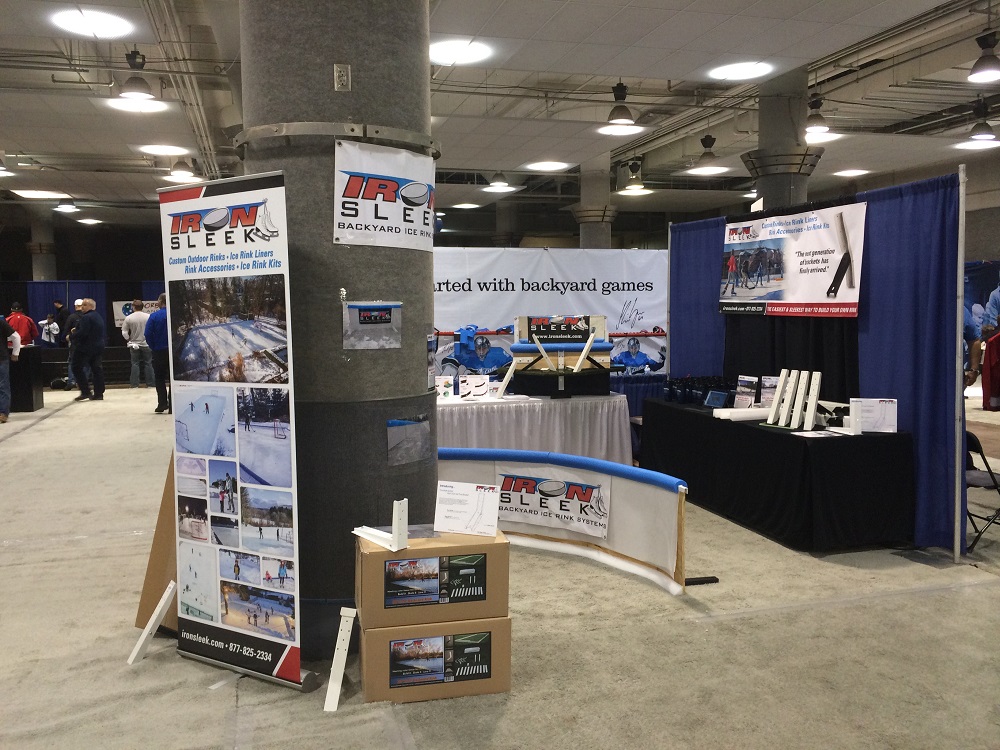 We have partners in retail, distribution, and custom installation crews in Minnesota. We can ship pallets LTL for the parks and recs in just one day's notice and ground transport usually takes 2-3 days to ship. Our shipping prices to Minnesota are 2nd to none. We deliver our top quality virgin resin ice rink liner and our rink kits to your door step for a great price.
We have install crews who service up to 1 hour out Minneapolis/St. Paul area who are in very high demand. Our backyard ice rink builders in Minnesota are happy to help. Call us up early season if you need a custom install. In 2013-2014 our installers sold out in Minnesota so please call far in advance so we can get a head start to help build your rink of dreams. Our team in Minnesota is experienced in some of the most challenging and elaborate rinks. If you want a rink above your pool or an arena on a pond, our team can make that happen as well. With our new Iron Sleek Hard Court Bracket, you can get the job done even if you missed the early season install. We can put rinks up in January.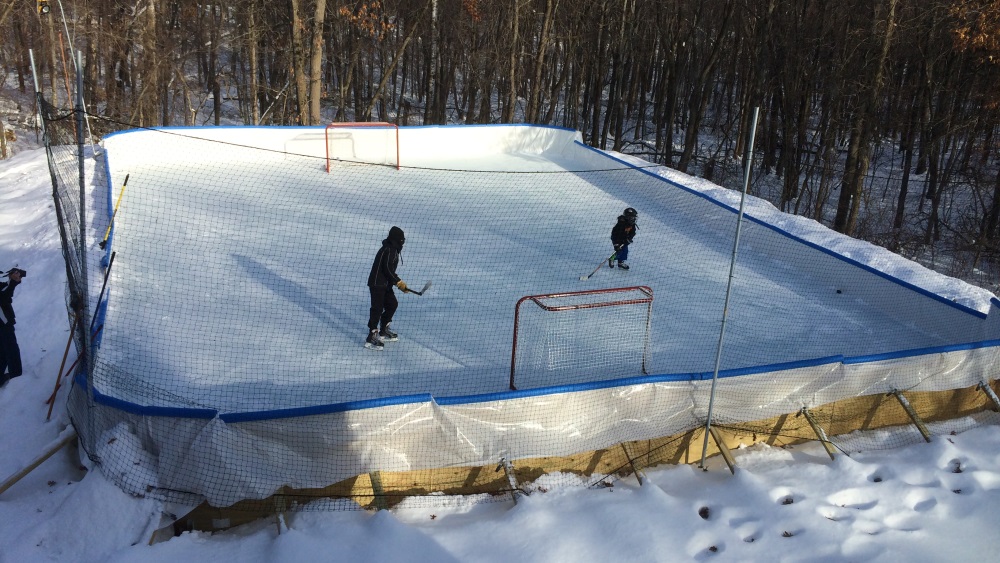 "My name is Scott, I live in St. Augusta, Minnesota. Our three children, who are dedicated hockey enthusiasts, asked for a backyard ice rink for Christmas. Of course their desire was to have an arena rink that was bigger with better boards than their friend's backyard rinks. However, I needed something easy to work with and simple to understand. In early August we did extensive research, and we found our answer…Iron Sleek. With Iron Sleek components we built our backyard arena. Our rink is 36 feet wide by 56 feet long with 4 foot backboards and 3 foot side boards. We also included corner rounds to keep the puck in play for hockey games. The Brackets and Outriggers from Iron Sleek hold the boards up sturdily to withstand big slap shots and hockey play. Iron Sleek had everything we needed to make our rink vision come true. Mike with Iron Sleek even did a full design and rendering for us which included an exact lumber list to purchase the boards from the local home improvement store and an exact map on how to build the rink. We had in-depth discussions about how much I should take on in our first year. The price was right and the customer service and engineering expertise of Iron Sleek was awesome. Mike provided answers to all my questions quickly, and Iron Sleek has tremendous tricks of the trade without a big price tag. I highly recommend Iron Sleek to anyone who wants to build a backyard rink not just for their great products but for their knowledge and expertise. Iron Sleek is a true resource for any Rinker!!"
Scott A. • Saint Augusta, Minnesota
---