Poly steel Plus is intended for permanent outdoor rinks. They are truly heavy duty! This is the best choice for non-residential public places.
Kits are all inclusive. You just choose how many doors and what type of mounting hardware you need, asphalt or concrete. Outdoor Permanent Ice Rink Kits come standard with 8" yellow kicker and 3" blue cap rail preinstalled on the boards. We provide our heavy duty steel bracket for every 4 feet of board. Also, standard Poly Steel Plus rinks include segmented rounds for the corners.
2 or 4 foot wide SOLID poly boards that are 42" tall to build the rink perimeter. Boards are 1/2" thick HDPE, UV treated for continuous outdoor use. Boards include 2 inch rigid rust proof steel beams on top and bottom including one mid way up.

Iron Sleek STEEL Hard Court brackets. One for every board section. One bracket for at least every 4 feet.
Board Connectors, enough to connect adjacent boards.
4 foot segmented Corner Rounds in 2 ft. sections, 12 per rink.
Blue Cap Rail is provided to cover the entire rink perimeter and is pre-assembled for your convenience.
Yellow Kicker 8" tall, UV treated, pre-assembled for your convenience.

Some add on items are:
Concrete mounts
Asphalt Mounts
And Doors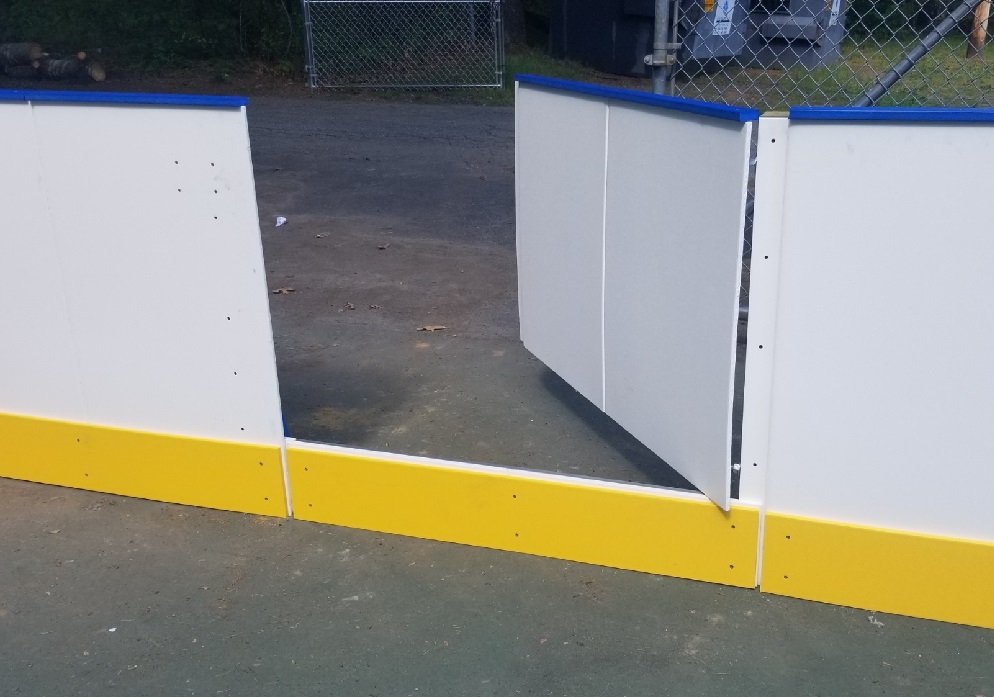 Poly-Steel Plus Rinks
Product Code: stdir1
Availability: In Stock