Drop in Ice Skating Medium Rink comes with:
2 foot wide SOLID poly boards that are 15" tall to build the rink perimeter. One foot boards are also included for rinks that need them.
Iron Sleek STEEL Hard Court brackets. One for every board section. One bracket for at least every 2 feet.
3/8 by 8" galvanize steel ground pins for securing bracket into lawn.
4 Corner Rounds
Blue Rink Topper is provided to cover the entire rink perimeter
Ice rink liner that is at least 5 feet bigger in length and width of the rink kit purchased.
A resurfacer for rink maintenance.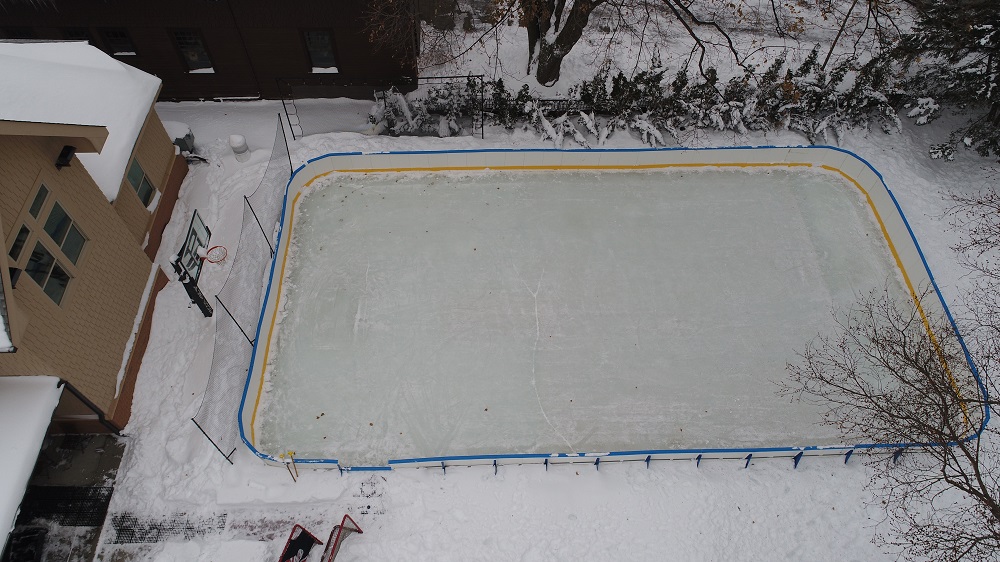 Some add on items are:
Yellow Kicker 4" tall by 1/2 thick solid poly for enhanced yellow at the ice edge and for liner protection.
Iron Sleek Ice Rink Cove. A foam triangle to prevent against liner blisters under the boards.
2" by 3/4 thick elegant Blue Cap Rail for enhanced aesthetics.
Upgrade liner to String Reinforced. Reduces the risk for liner tears.
Medium Drop in Rink - 20' x 40'
Product Code: mdir
Availability: In Stock