Rink Ideas
Brackets
The best way to support your boards is with the Iron Sleek Ice Rink Bracket for dirt and grass or the Iron Sleek Hard Court Bracket for tennis courts or parking lots. It is the perfect next-gen STEEL bracket specifically engineered for building backyard ice rinks. Some people use rebar to support their rink. Rebar works well until the first thaw where the ground gives way. I learned that the hard way. I then switched to 2 by 4 stakes with a kicker. 2 by 4 stakes held the load but they were nightmare to install. Do not be fooled, wooden stakes are inexpensive but they require heavy sledge hammer labor with an end result of a rink that can look like a construction site for casing concrete as shown below.
Wooden Stakes used to case concrete The clean and safe look of using Iron Sleek Brackets to support rink boards.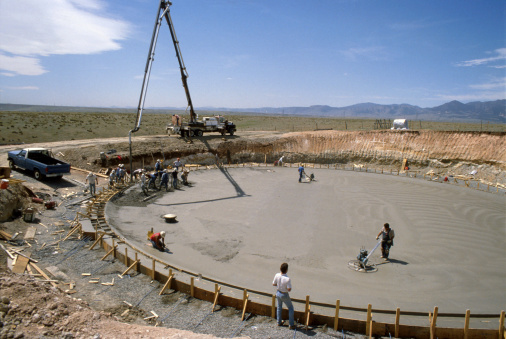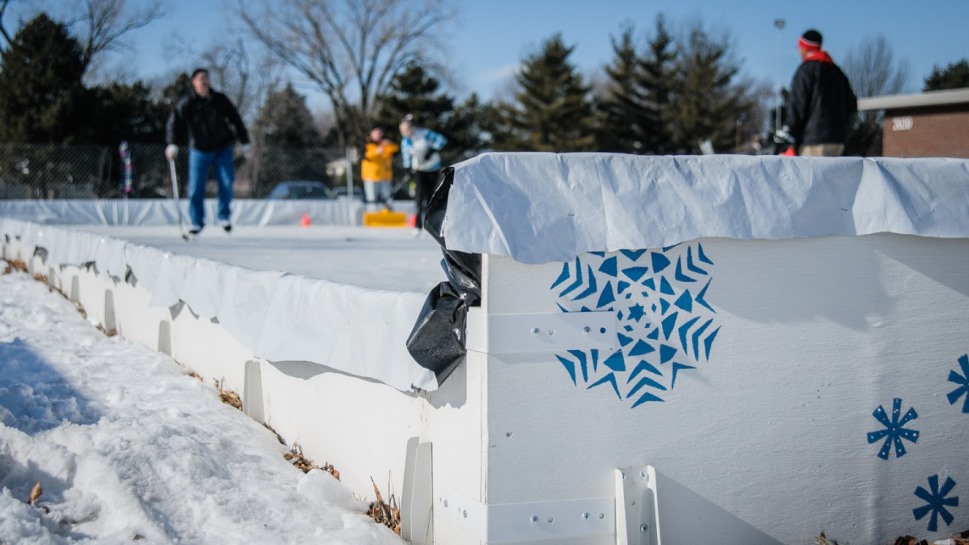 I want my rink to be a safe area for kids. Also, those days of swinging a heavy sledge hammer with one man fearfully holding a wooden stake in place while the other swings away are over for me. I take a lot of pride in my home and I take a lot of pride in my rink. The Iron Sleek bracket just blends into the rink enclosure while providing the needed support to hold the weight of the water and the force of the expanding ice with its clever design (see instructional pdf).
The Iron Sleek Bracket comes with a free replacement installation tool.
For those of you who are hardcore or are in the backyard ice rink installation business you have got to see our "Professional Grade Install tool".
Other commercial solutions for side board brackets are bulky, lack versatility, and not cosmetically appealing. The Iron Sleek is the opposite. It is compact, versatile, and a pleasure to look at. Also, because they are so compact, they ship across the US and Canada for a fraction of the price. Although we are a 1 stop shop for all backyard rink products, we are named after our amazing bracket "IRON SLEEK."
Site Selection
Top Concerns when choosing a Site to build a backyard rink are:
-Ground Conditions -Size of Rink -Yard Slope -Water Accessibility -Neighbors and Pucks -Shading -Lighting Options -The Fire Pit
-Ground Conditions
Choose somewhere where the ground is firm and not being used for septic.
Firm ground will help keep your Iron Sleek brackets solid in the ground. It is probably best to not build a rink above a septic tank or septic field. A septic could act as a warmer from below. One rule of thumb would be if snow melts in that spot so will ice. If you have to negotiate a patio area or a hard court area...no worries. We have the awesome Iron Sleek Hard Court Bracket to get you past that challenge.
-Size of Rink
Choose a location to accommodate the size of your rink.
Make the right size rink for your family and your budget. Do not over do it! Too big of a rink could be a maintenance nightmare especially if things do not go exactly as planned. Start medium size or small and expand with experience. Our 20' x 20' Outdoor Skating Rink Kit is a great seller for a good reason. I started with a 40 by 60, expanded to a 40 by 80, expanded to a 50 by 100 and finally settled with a repeat rink of 45 by 65 rink. Even after being an experienced rinker, still a 50 by 100 rink was too much for me to maintain. With the Iron Sleek Ice Rink Resurfacer you can choose a container that could work well for your rink.
My 45 by 65 rink is maintained with a 32 gallon container of steaming hot water. It only takes a few minutes and there is no need to manage a clumsy hose. If you are in the position of choosing between length and width, go with the width. Width gives more room to operate for backyard hockey.
-Yard Slope or Pitch
Try to choose a location with the least amount of slope.
Level is always better. A level rink requires less water and ultimately freezes and skates better. However, yard slope is reality. The best way to measure level is with a laser transit but a taut string with a line level should get you within a few inches. I like to find the high spot first and then take measurements from that spot. If you are good at reading golfing greens, you might get close to eyeballing the high spot (low water spot). Most of the time, the high spot is logically found in the center of the yard closest to the house so water flows away from your home. Use that as a reference and start taking your measurement. For estimating the water level, consider 3 to 4 inches of water at the low spot.
The yard slope challenge is easily conquered by adding brackets and making the boards taller where the water levels will be higher. With 2 by 12's as boards, you can utilize the Iron Sleek Extension bracket.
With plywood, just rip the boards to the height you need. Usually, your lumber supplier would easily be able to rip the boards for you. Be sure to use the Iron Sleek mending channel at the board tips to keep your plywood from rabbit earing. Do not let a highly pitched site be a show stopper. Freely use Iron Sleek Out Riggers when you have over 16" of water and follow the spacing on the Iron Sleek installation manual. My personal rink has 15 inches of water on one end and it is has been a successful blast to skate on ever year.
-Water Accessibility
Chose a location near a water supply.
Your rink will require a fill up and regular maintenance. Make sure you place it in a location where you can fill it up and keep it up. It would be great to be near a hot water supply. I piped my water spigot for both hot and cold water for this purpose. Sounds crazy but I love outdoor fun with the family more than anything else. It has been worth it.
-Neighbors and Pucks
If you can, position your rink in such a way that you keep the noise and loose pucks to yourselves. My rink is always open to the neighbors so this is not an issue. Once the neighbor's kids skate your rink, they will be your allies. I try to let the rink bring the community together.
-Shade
Chose a location that will minimize afternoon sunlight.
The afternoon sunlight softens the ice on marginally cold days. The morning sunlight is not as bad because mornings are typically colder. Great shade helps extend the season. The downside of shade is that you usually spend a lot more time with branch and leaf clean up.
-Lighting Options
Chose a location near power outlets
This often gets forgotten because we are dreaming up our rinks early in the season. It is dark before 5 pm in the winter. If you want to enjoy your rink to the fullest, be sure you get some lights. The moonlight will not cut it. Plan for lights. Iron Sleek offers a post kit that works brilliantly for lights.
-The FirePit
Chose a location where you can build a campfire
The only reason we are talking about outdoor ice rinks is because it gets real cold outside. The fire pit needs to be well thought out. In the frigid cold, the fire pit is your only relief. BTW, the aroma of the embers and the glare of the fire, will burn in memories that will last a life time.

The most common choice for boards are 2 by 12's or 3/4" plywood. With Iron Sleek, you have the freedom to use what is most accessible to you. We have customers who even frame their own boards or use other commercially available plastic boards. We have customers who even mix boards. Some want the ice area to be a hockey rink by using Iron Sleek Poly Steel Boards. Check out our very helpful board selection blog. Iron Sleek is versatile!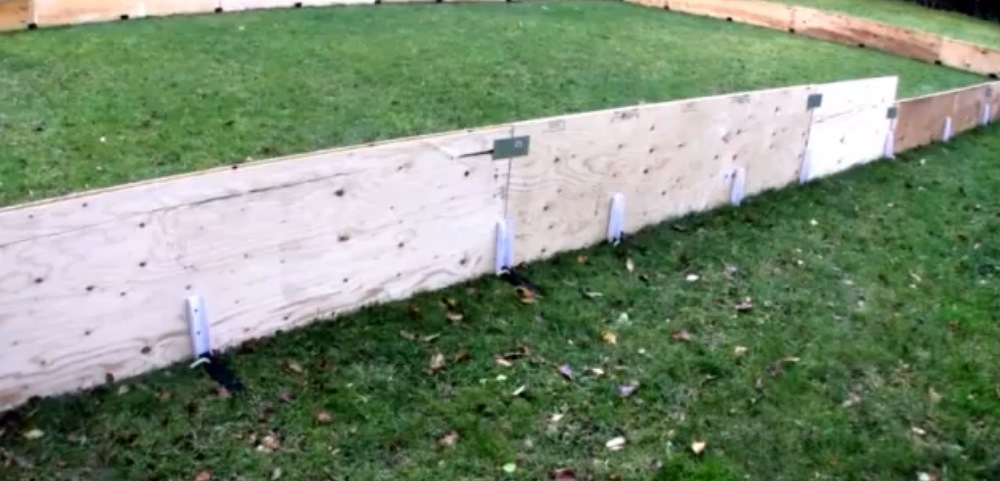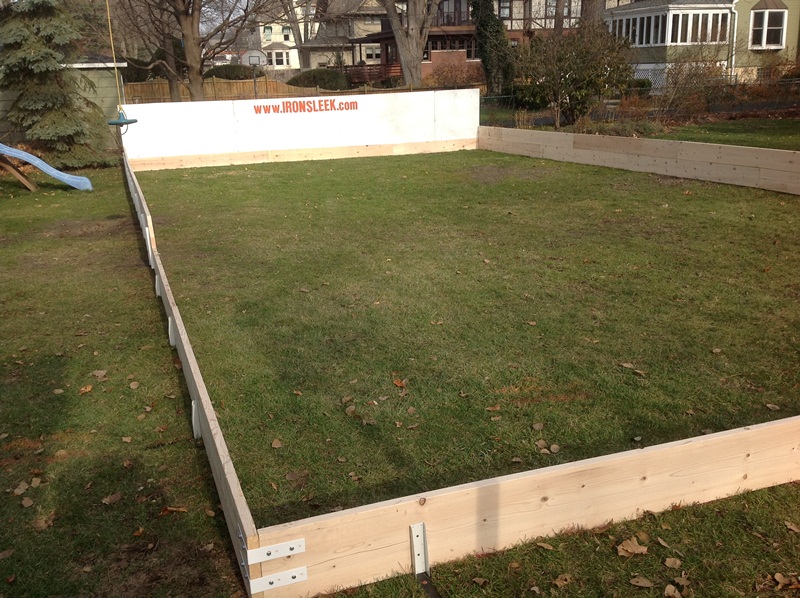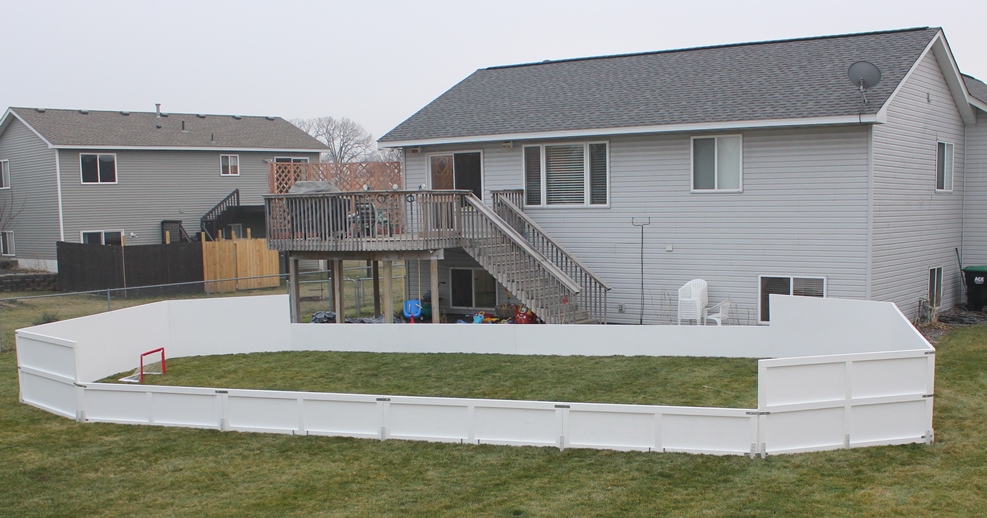 2 by 12's
Our Skating Rink Kits are designed to offer top value by using 2 by 12's. With 2 by 12's as boards you will be using the most cost effective method to get a functional sheet of ice. 2 by 12's require fewer Iron Sleek brackets because of their rigidity and they will require fewer wood cuts, if any! They are available in many different lengths at almost any the local lumber store. Treated Lumber or Natural? I prefer natural because the it weighs much less and is more affordable. The rink liner or tarp will keep the lumber weather protected.
Also with 2 by 12's you can easily make corrections for misjudgment on slopes. That is also why a little extra liner is always a good idea. Pull your liner up, add a 2nd story, and sneak in a few more Sleeks.
On my shallow end, I use only a quantity of three 2" by 12 boards that are 20 foot and one 5 footer. That is only 4 boards for a 65 foot stretch. If you use longer stretches of wood, be sure to fill the air gap between the liner, the wood and earth with clean top soil or simply get some Iron Sleek Base Cove.
Be sure to utilize Iron Sleek Corner Bracket in all corners. A solid corner is a must! Double up on corners as it is well worth the peace of mind.
You also have the option for rink rounds in your corners with 2 by lumber and plywood.
3/4" inch Plywood
3/4" inch plywood is a better choice for rinks that have a long section of very high water and for rinkers who want more of a backyard hockey rink feel. Although plywood will cost a bit more money for the boards and will require more Iron Sleek brackets because it is not as rigid as 2 by lumber, it is still well worth it to those who want that higher board atmosphere. Some other benefits of Plywood over 2 by lumber is for stacking and storage on the off season and it is lighter to handle. On the contrary, plywood requires a little extra work, money, and skill. Plywood boards come in 4' by 8' sheets. The most common practice is to rip them in half with a circular saw and to support the boards minimally with an Iron Sleek bracket at the seams and every 4 feet. In addition, it is critical to bind the tops with Iron Sleek Mending Channel at all seams. The good news is that the local lumberyard may rip the plywood for you. Ripping plywood is not as easy as it seems. Ask someone skilled for help or ask the lumber store to do it for you. Heres a tip, Menards carries already ripped plywood boards. Here is a caution, Plywood has very sharp corners. BE SURE TO USE IRON SLEEK BASE COVE to protect the bottom of your liner. Base Cove is truly a rink saver.
Another benefit of plywood is that you can upgrade your rink into an arena type rink by using the Iron Sleek Outrigger bracket to support full sheets of plywood along with using the Iron Sleek bracket. If you go with an arena type rink, I highly recommend the Iron Sleek Corner Round Kit. Your rink will look like an arena.
Some people use 1/2" plywood and frame it for rigidity.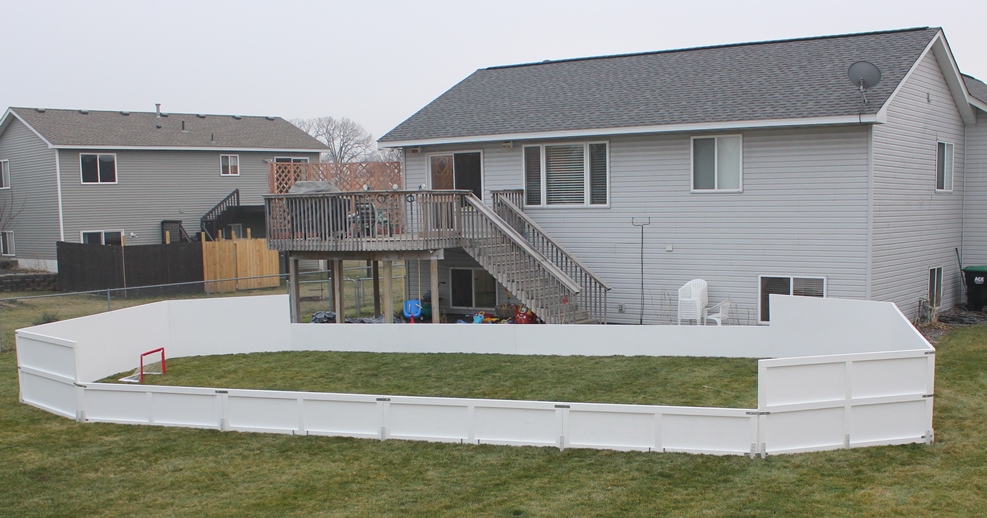 Iron Sleek Poly Steel Boards
Iron Sleek Poly Steel Rink Boards are simply the best backyard ice rink boards or outdoor hockey rink boards on the market today!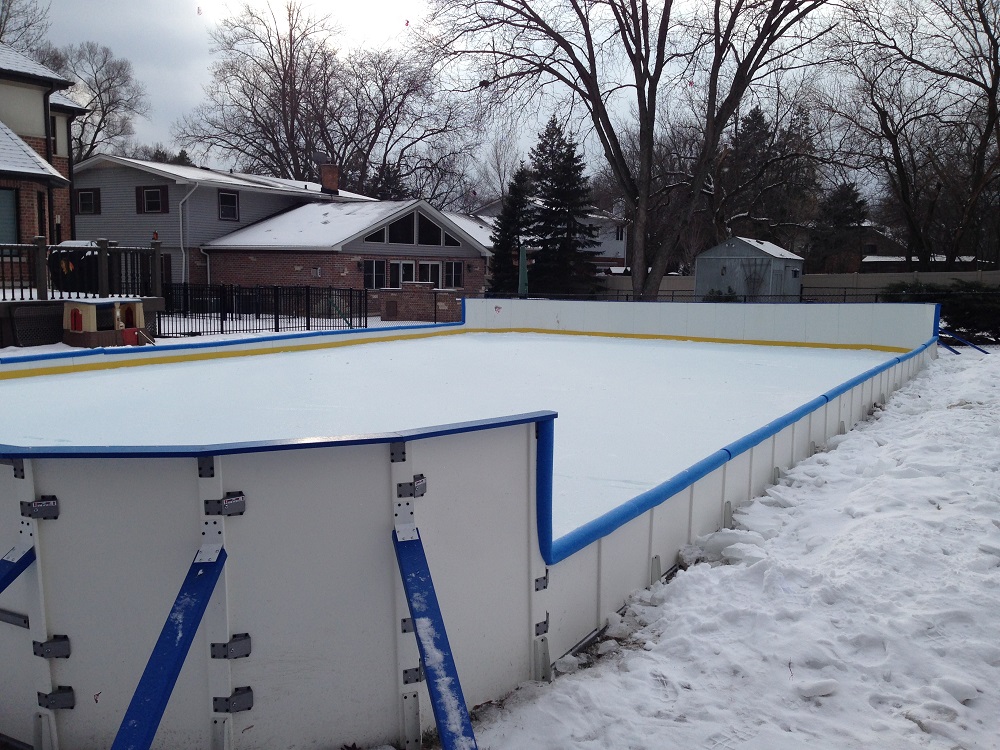 The picture above says it all. Poly Steel boards by Iron Sleek are so easy to use. This is an awesome product at a great price for outdoor hockey rink boards!
Liner
When it comes to choosing a liner or tarp, be sure that it is one plastic sheet, pin hole free, seamless, and white. A seamless pin hole free poly liner does not weep water. For an ice rink, water leaks usually result in extra maintenance and mediocre ice. Also, depending on the winter, a weeping tarp that does not have a true plastic layer could cause damage to the lawn as water can flood grass roots or trick the dormant lawn to become active in the middle of winter. NEVER SEAM A LINER. The only acceptable seam would be a factory seam. A homemade tarp tape seam will give you problems!
White liners or tarps make a big difference for forming and keeping great ice. White helps keep the ice from melting by reflecting the radiant heat away from the rink on those sunny winter days. Iron Sleek manufactures high quality ice rink liner using only virgin polyethylene resins, in pure white, and multilayered. Multilayered liners are much stronger than a single layer. WE DO NOT USE RECYCLED MATERIALS FOR YOUR LINERS as the first plastic resin melt is simply the best. Some lower cost options that can be found at the local hardware store may be made of recycled materials since they are not specifically made for winter ice rinks. Do not allow dogs on the liner as it may tear. The first resin melt produces the highest quality plastic which is required to absorb the abuse of a cold winter. Our manufacturing recipe is proven successful for outdoor natural rinks while recycled solutions are a compromise. Also, we provide ice rink liner at widths that are perfect for making home ice rinks to be 20 wide, 30 wide, 40 wide, and 50 wide. Our widths are specifically manufactured for those who are building backyard rinks. If you are a park or recreation center, we also have liners as big enough to make an NHL size rink. Do I really need a liner?
What mil thickness?
First of all, mil refers to the thickness of a liner in thousandths of an inch (i.e. 6 mil= 0.006"). Iron Sleek recommends using the "flood method" where you flood a framed and lined enclosure (like building a swimming pool). With the flood method, the liner is simply an impermeable. That is, it keeps the water from passing through. Reality, however, is that winter freeze/thaw patterns causes rinks to creep throughout the season. Although 3 mil is impermeable, it is too thin to endure the extreme winter patterns in North America. 5 mil and up is our recommendation for outdoor ice rinks. Iron Sleek goes the extra mil from 5 to 6 mil to assure your success. Iron Sleek 6 mil Liner also has the multiple layers required for rinks...Layers will get you more toughness--like skin. 6 mil or 20 mil, a skate through the ice will still cut right through the liner so do not waste your money on extra heavy duty liners! If you have rocky conditions, a string reinforced liner may be a better solution for you. Call us for a string reinforced liner if you have a rugged terrain scenario.
How Big?
Minimally, a liner should be big enough to cover the entire skating surface and should be able to come all the way up the boards and then droop down a bit on the exterior. The liner should be at least 4 feet wider and 5 feet longer than the skating surface or more. For example, a rink that is 30 by 50 should use a liner that is at least 34 by 55. It is always good to have extra liner just in case you need to use taller boards. Remember, too much liner is not a mistake while too little is. Long liners are easily trimmed for aesthetics! Use Iron Sleek Rink Topper to hold the liner in place and to give your rink a nice appeal. Iron Sleek liner clips are an affordable alternative to rink topper. One more important consideration on sizes is to beware of nominal sizes versus actual sizes. Tarps are usually nominal sizes while liner are actual sizes. That would mean that a tarp can be smaller than the listed size. With Iron Sleek liners, you will always get enough liner.
Can a liner be reused?
Take my word for it, cut out a few Starbucks coffees and save your money for a new liner every year. It is not worth the panic of "did I cut the liner" or "do I have a leak". I have tried to keep my liner in tact in the past only to fail every time. Since my wife would never let me put that stinky monstrosity in the basement or garage, I tried to store it in the outdoor shed where I had creatures nibble holes through it, mold infestations, and rancid unexplainable stink. Buy a fresh clean liner every year. Use your old liner to cover your lumber in the off season or just recycle it since it is LPDE #4. If you insist on saving your liner, just use it as a bottom insurance layer for the following year. Do not worry so much about liner cuts above the ice level. Cuts beneath the ice are highly relevant so I strongly recommend protecting your liner from failing during the skating season with Iron Sleek Base Cove.
Do the Liners or Tarps kill the Grass?
Liners should be laid down only before a deep freeze is coming. By that time, the grass is dormant anyway. Snow covered grass gets little to no sunlight while grass still comes back every year. The problem occurs when you leave your liner/tarp in place during the time your grass becomes active. I learned that using a true white liner buys you a little time and forgiveness which helps for healthier end of season lawns. If you lay your liner down on dormant grass and take it up when the grass is still dormant, you will be just fine with whatever you lay down. Some will advertise that white/black liners as grass killers, but boards and brackets are equally 100% opaque. Ice Rink Brackets and rink boards haven't killed my grass. It's all about timing and dormant grass. Also, there is no one who will guarantee that your grass will come back but it usually comes back better, at least that is what my experience and customers all tell me. We cannot control the weather and a fluke season could happen where the grass could be tricked to become active. My opinion is that a backyard rink is worth the minimal risk of losing your grass.
More on Liners.
Treat your liner very carefully when installing it. Be sure that nothing sharp is in your rink area or on your boards. Be sure that no screws are pointing into the rink interior. Tuck your liner down nicely into the rink. Fill the bottom gaps with soil or use Iron Sleek Base Cove. Do not staple your liner until it is settled when the rink is full of water. Iron Sleek Rink Topper is a great alternative to stapling. Never walk on your liner unless you have an emergency. In that case, do not where shoes, go in with 2 layers of socks on. Never reach into your rink enclosure with tools, you will drop them and you will be sorry for your liner and your tools.
Corners
Square corners:
I cannot emphasize enough how important it is to build a solid corner. When not supported properly, the corners can and will blast open. Ice is very disrespectful, it will blast through anything in its way. You need steel corners! For square corners, Iron Sleek offers our best seller product the Iron Sleek Corner Bracket. It is our best seller because it is priced well and because experienced Rinkers have learned this the hard way that cheaping out with a hardware store knockoffs or just using end screws is not going to cut it for the dangerous rink corners. In my early days, I used just end screws and experienced a corner blow out. The corner blasted open and the end screws became exposed and punctured my liner. Luckily, I managed to patch my liner while I braced it with a steel corner. Like all Iron Sleek components, the corner bracket is versatile. Our corner bracket is attractively powder coated in white to blend into your rink and to preserve it from rust. It also comes with heavy duty lag bolts. Just squeeze your corner real tight and lock it in place with the Iron Sleek corner bracket. You want to be confident that your corner will be secure. It is also a good idea to use Iron Sleek base cove in a vertical orientation to keep the liner from pushing through and seam gaps.
If you are using plywood or stacking boards, use 2 corner brackets.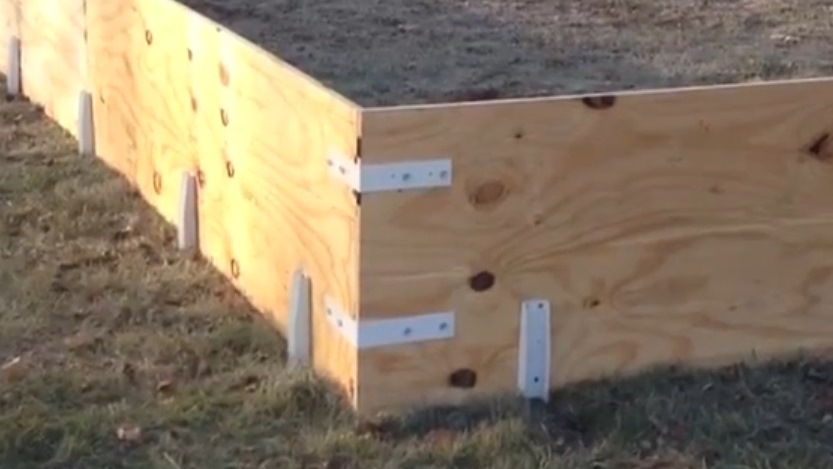 Round corners:
Building a Corner Round seems like a geometric nightmare. Actually, it could be a bit complicated but Iron Sleek has simplified it to just a few simple steps with the Iron Sleek Rink Rounds.
If you are using lumber, one bracket per joint is enough. 1 package is good for 4 corners. If you are using plywood, use 2 brackets per joint. 1 package is good for 2 plywood corner.
Corner Rounds improve your rink appeal and help keep puck live for pond hockey. They are breeze to install too. Consider upgrading your rink this year with corner rounds by Iron Sleek.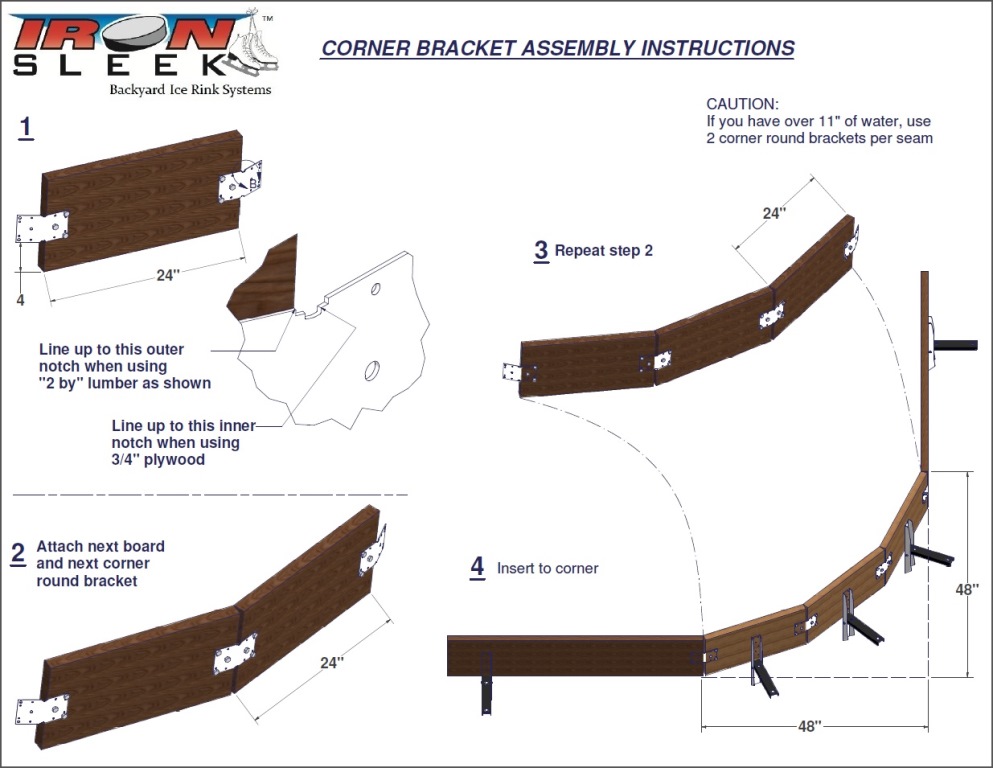 Backboards
Iron Sleek offers the easiest way to put up hockey boards. The best material to use for building hockey backboards is a readily available full 4' by 8' sheets of 3/4" plywood. Do not make the mistake of using 1/2" plywood as it is way too flimsy. Another option over plywood can be Iron Sleek Poly Steel boards which come in at 20" and 42" tall. The basic idea for supporting a backboard is to anchor it at the board base with the Iron Sleek bracket and then to support it up high with an angled support that reaches way back into the ground. This angled support that reaches back is to absorb the higher body loads and is used to keep the backboard solid enough to endure puck slap shots and some momentum body impact. This angled support is called an outrigger. Many use general carpentry methods of mitering 2 by 4's and building massive braces to accomplish this. I actually used to but not anymore!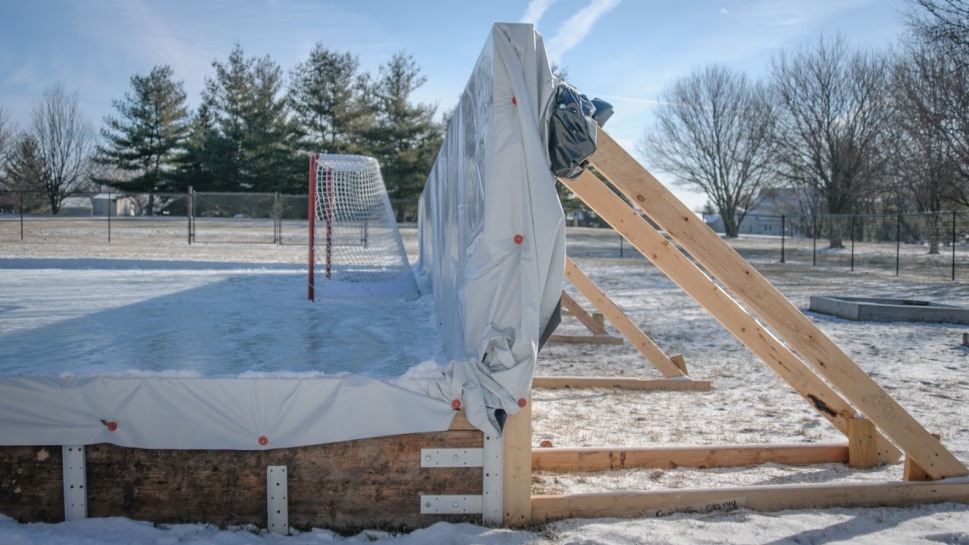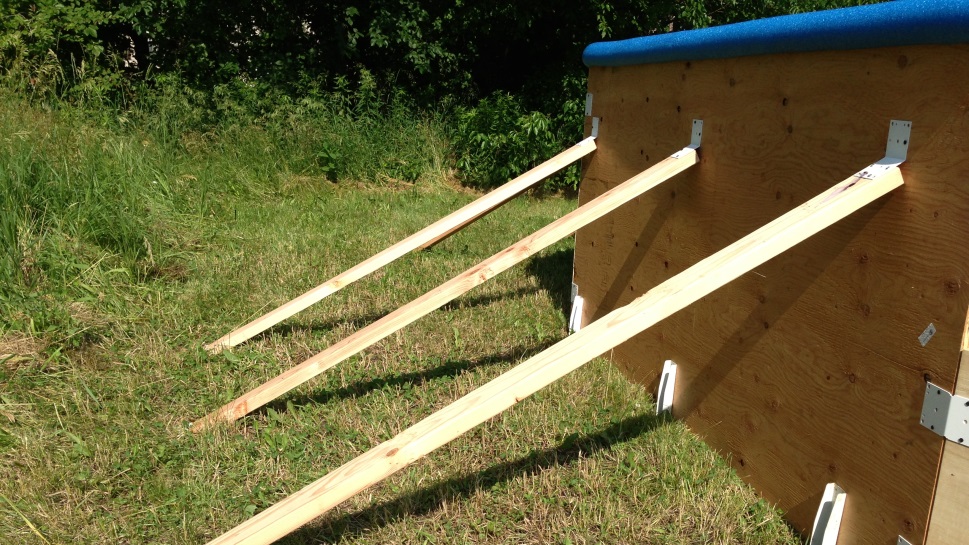 I am so glad that Iron Sleek developed the out rigger kit. No miters, no cuts! The least handy person could now put up tall rink boards for an arena like rink. Here is how it works. You simply mount full sheets of plywood directly to your Iron Sleek Brackets. After you have your backboards pined up with the sleeks, you now support the board seams and middle with the outrigger bracket kit. Be sure you are using 3/4" plywood for backboards. If you would like a more attractive version of the outrigger, consider the outrigger deluxe shorty or the outrigger deluxe tall.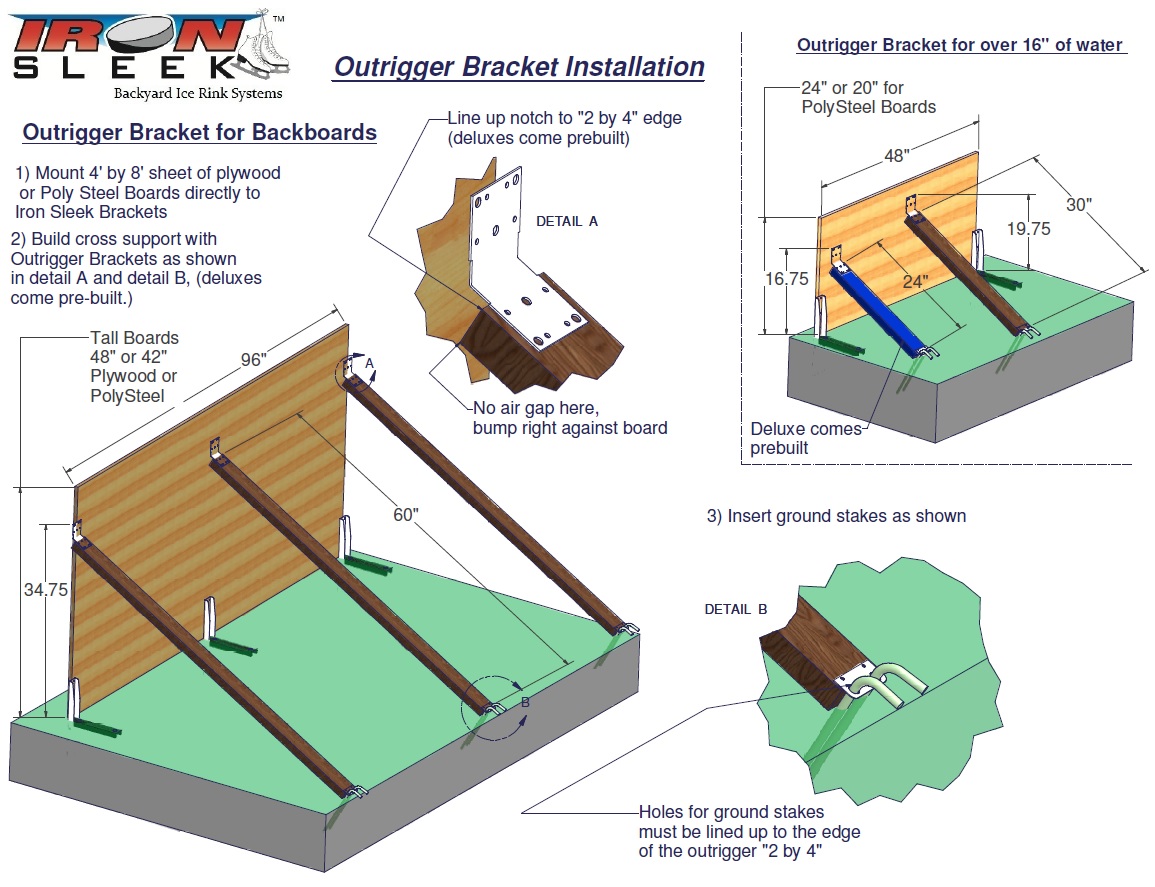 I highly recommend you use Iron Sleek Base Cove with backboards since they will take impact the boards can move and slice the liner from underneath. If you build you rink out of 2 by 12 lumber, its not too late. Just set the backboards right above your Iron Sleek brackets and lag bolt the plywood boards to the 2 by 12's. Check out our blog on putting up backboards. Then use the outrigger kit to support the boards up high. You will also need some Iron Sleek Ground Stakes for the backside of the outriggers. Be sure to get an extra long liner if you want to put up backboards for slap shots. At least 10 feet longer than the rink is my recommendation. For example, a rink that is 30 by 60 should take a liner that is 35 by 70 if you are considering backboards. The liner still goes over the boards just like any other type of "frame and flood" rink.
Top Edge
When using plywood for side boards, it is important to tie together the tops of consecutive boards so that the upper corners stay aligned. Iron Sleek has sells an easy to use a mending channel which provide several benefits. The mending channels fit over consecutive boards, sandwiching the boards together with steel. Traditional brackets count on the screws. Because the mending channel provides the strength through sandwiching the boards, only 2 screws are needed to attach it.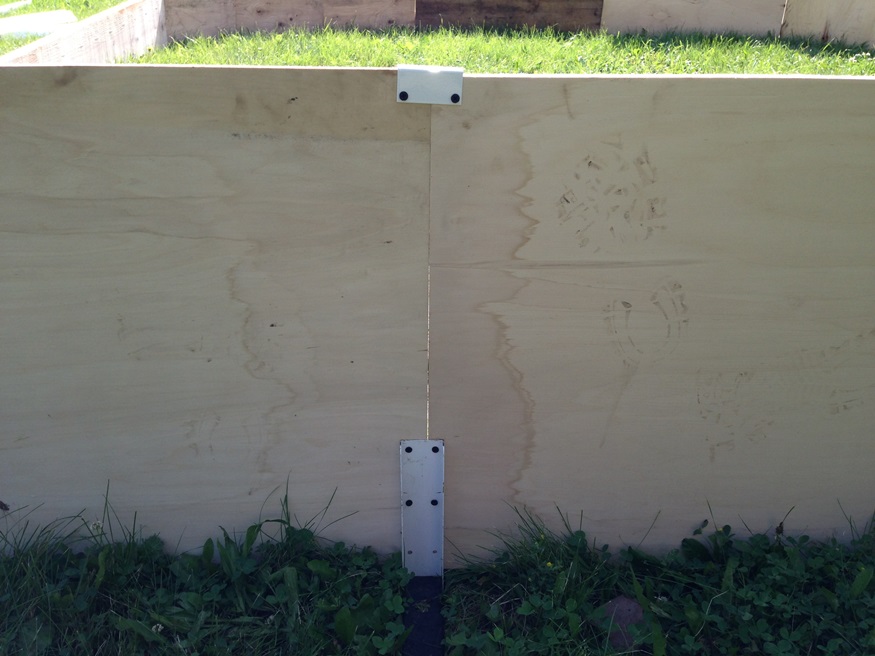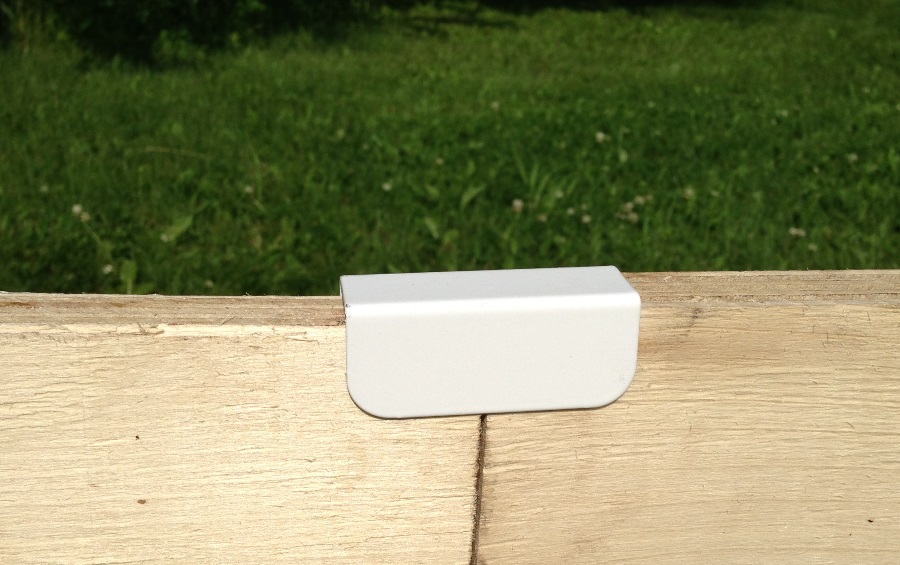 Rink Topper (Board Edges):
Iron Sleek offers rink perimeter foam in UV resistant blue to enhance the look of your rink, to hold you liner in place, to give cushion, to help keep puck in play and to give you the skater perception in the all white winters. I have seen people rest lumber, lawn chairs, ladders, etc to hold their liner down. Keep your rink from looking like a junk yard. Make it that true rink of dreams with Iron Sleek Rink Topper.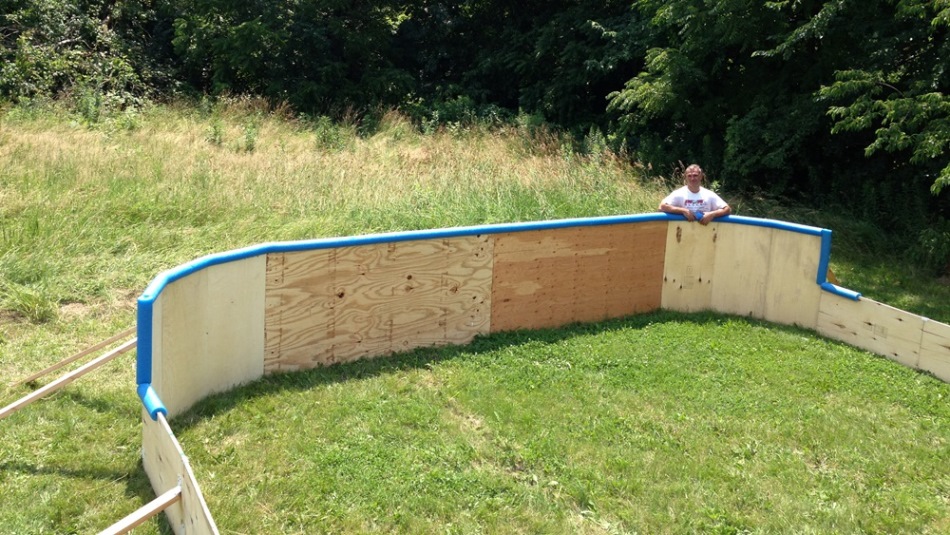 Rink topper is designed to work with both plywood and 2 by 12 lumber. It is UV tested to keep color and should last you several seasons. If you want something more elaborate, check out Iron Sleek cap rail. See picture below: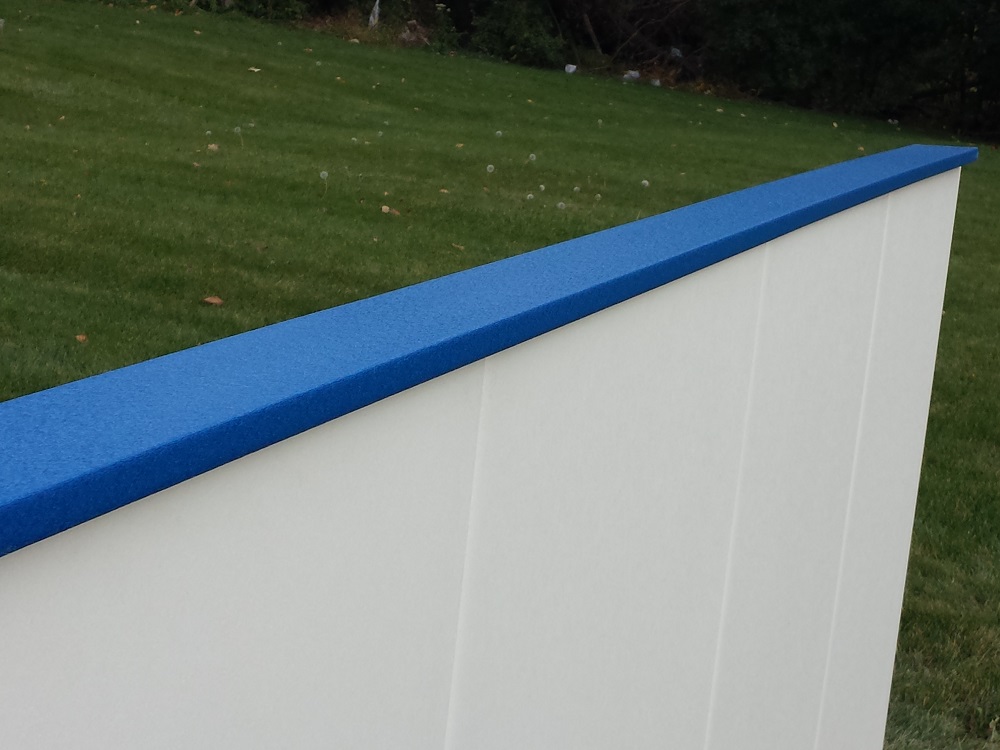 In the middle of a white winter, it is hard to see the rink edges. I have many times skated full speed over the rink edge just to find myself laying in a pile of snow. It is quite funny but falling out of the rink gets old quick. Consider an NHL rink, the board tops are usually red or blue.
Bottom Edge
Base Cove (Uneven Ground):
I mention Iron Sleek base cove several times throughout the Rink Ideas section because I get e-mails, questions and calls about this topic most frequently. What do I do about uneven ground? How do I fill the gaps under my rink boards? Iron Sleek Base Cove is the answer! Base cove is made of a high density foam in the shape of a triangle. The triangular shape allows the pressure of the water to naturally tuck and fill the gaps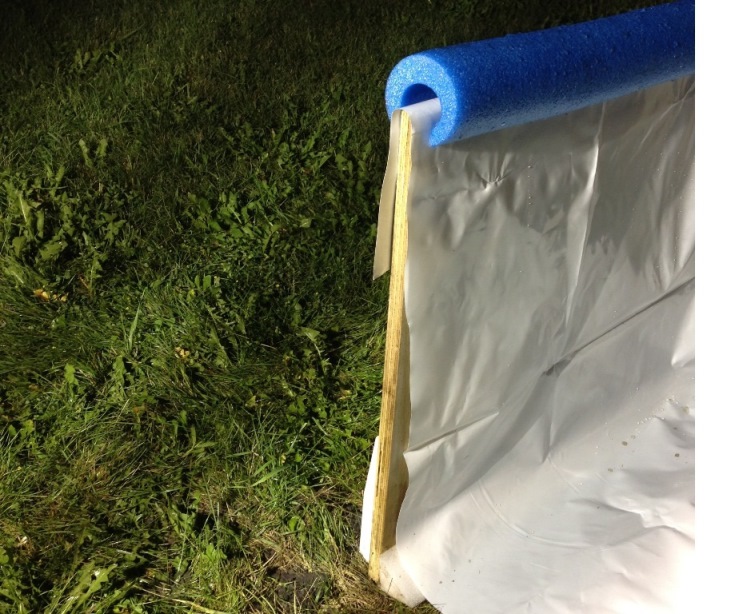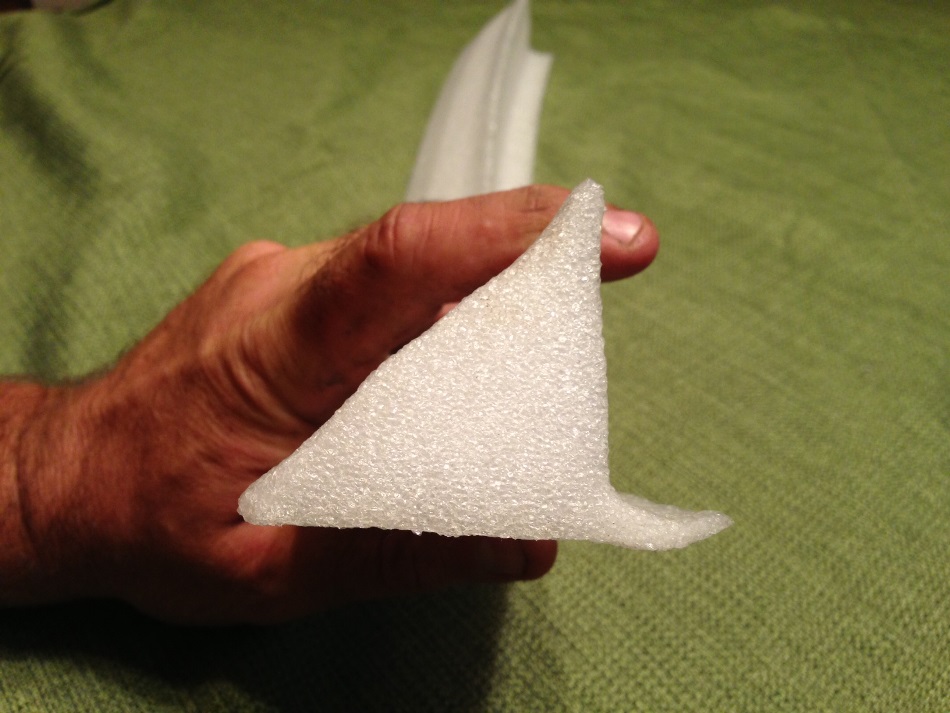 Keep in mind that underneath your sheet of ice, you will most likely still have water. Rarely does a rink freeze 100% throughout. Your backyard rink is like a frozen pond in a sense and you need to take precaution against creeping or rattling boards that can cut you liner from below. YOU DO NOT WANT THE LINER TO GET CUT FROM BELOW. Weather patterns of freeze and thaw, skaters, and hard hit pucks will rattle your boards. With Iron Sleek Base Cove, you will be better protected against those nearly unrepairable failures. Keep in mind that plywood is especially sharp and 2 by 12's could have splinters. Protect the integrity of your liner from the bottom up with the cove. Iron Sleek offers base cove for your success at a minimal price. Iron Sleek base cove has a tab that you can tuck under your rink frame to keep in place until you lay out the liner. It could slip under your frame even after your rink is built. Base Cove should also last you several seasons and it is compact for storage. The other option is to use top soil or sand which is tedious and messy. Top soil and sand can wash away but also do work well as an alternative. Cove is great for rink building but how about for when the rink is built? The answer here is to use Iron Sleek Yellow Deluxe Dasher Kickboard. Gives a great look and plays well.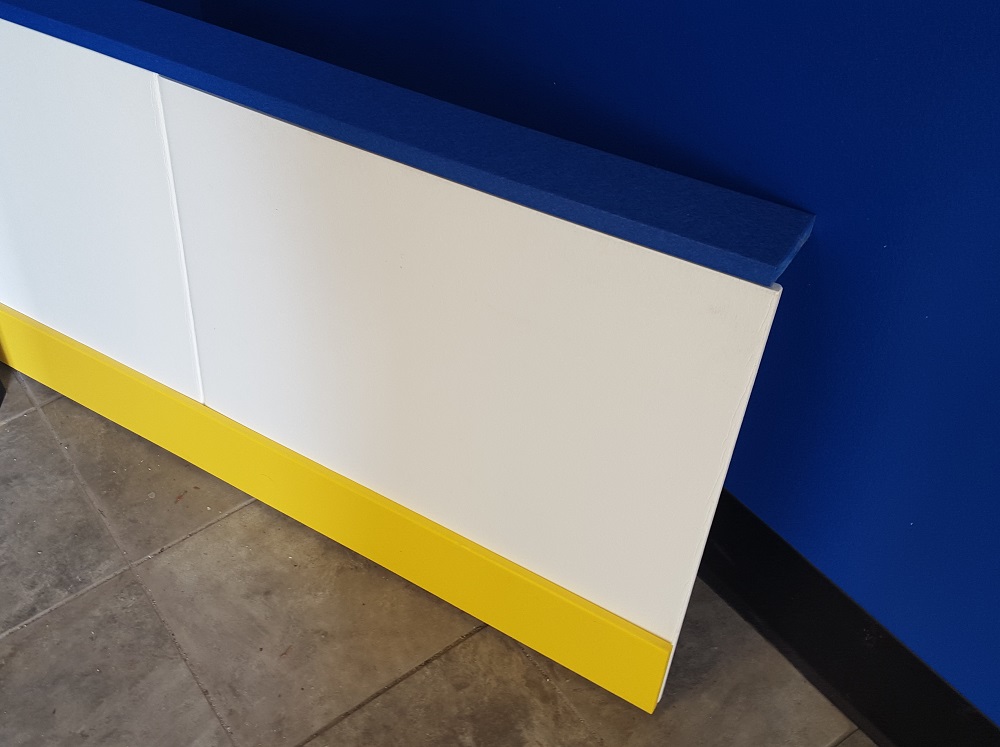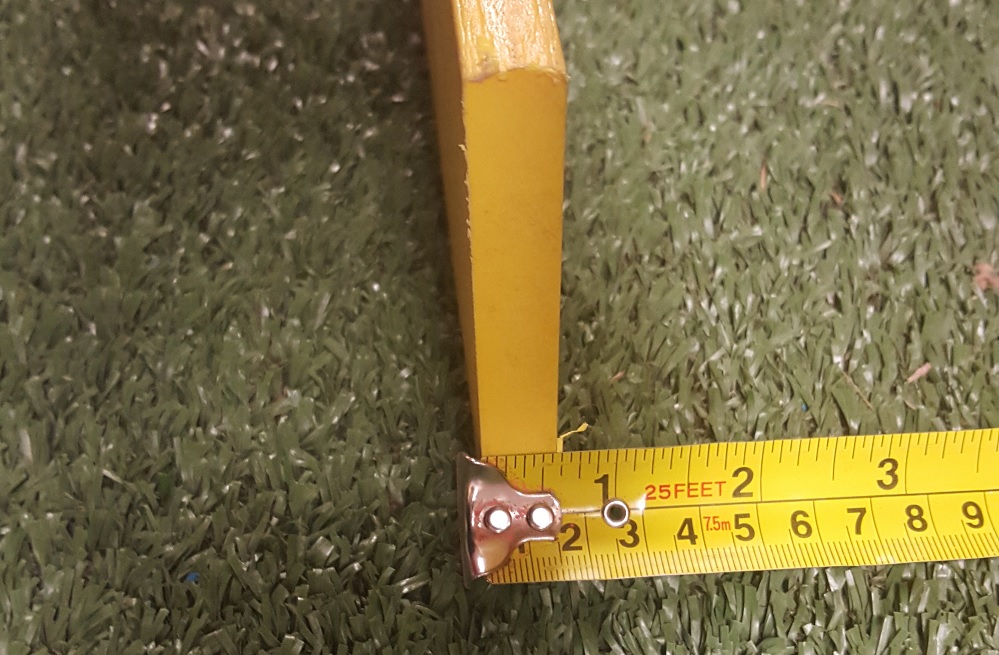 Ice Rink Maintenance
Main Concerns are:
Skatability, Snow Removal, Regular Board Inspection, Surface Crack Filling, and Regular Resurfacing.
To Skate or not to Skate-
Once you have your 2" to 3" of solid ice, it is time to shift gears from Rink Building to Rink Maintenance. Hopefully, you did all the right things up to this point.
As a reminder, the most critical considerations for building a rink are solid Iron Sleek Corners, filled board gaps with clean soil or preferably Iron Sleek Base Cove, sufficient bracket spacing, and proper care when laying out the liner. The best way to test the ice thickness is to have an adult wearing shoes carefully walk on the ice around the perimeter. If water gushes up the sides, the rink is probably not skatable that day. Be very careful when doing this. DO NOT DO THIS WITH SKATES ON. A skate through the ice will slice your liner. That is a tough problem to overcome!
Snow Removal-
Think maintenance before you build your rink. If you have taller boards, consider how you can get a snow blower up on the ice and then back out. Snow must be removed from the ice surface. It acts as an insulator and works like a blanket to keep your ice warm. The rule of thumb is to try to remove the snow as soon as possible, say within 12-18 hours after the snow fall. The snow will degrade your ice surface for sure.
Board Inspection-
I make it a regular practice to walk the exterior perimeter of my rink. If I think that some boards are creeping too much because I underestimated the water level or because the weather patterns have softened up the soil too much or because a skater superman slid full speed into the walls, it is not a problem. If you used Iron Sleek as your supports or some other method, you can still add supports after the fact. I call this "Sneak in a Sleek". With Iron Sleek you can recover from some constructions oversights.
Repairing Surface Cracks-
Surface cracks are inevitable so embrace them and repair them. Even NHL ice gets surface cracks in a controlled environment where the ice is kept at between 24 and 26 degrees Fahrenheit with a relative humidity of 30 percent. We have no control over those conditions so just enjoy the different types of ice you will be served this winter. In Chicago, where I live, we have days where it is 0 degrees Fahrenheit and below. Those day make for brittle ice and lots of cracks to fill. On the days when it is 28 or 29 degrees, you will have tough ice but it will scar easily and require additional resurfacing and coating. The best skating days for reduced maintenance are in the low 20's. So here is what I recommend, fill the cracks and big divots with slush and then resurface the ice by coating it in layers. Check out our YouTube which shows how that can be done: https://www.youtube.com/watch?v=rSYjPS90adk
Resurfacing-
Our customers love ice rink resurfacing. One of our customers who uses the Iron Sleek Resurfacer says: "My husband built a successful rink but became obsessed with resurfacing the rink. He said it was therapeutic. We bought the ice rink resurfacer from Iron Sleek and filled the bucket with steaming hot water and always had smooth ice for the girls."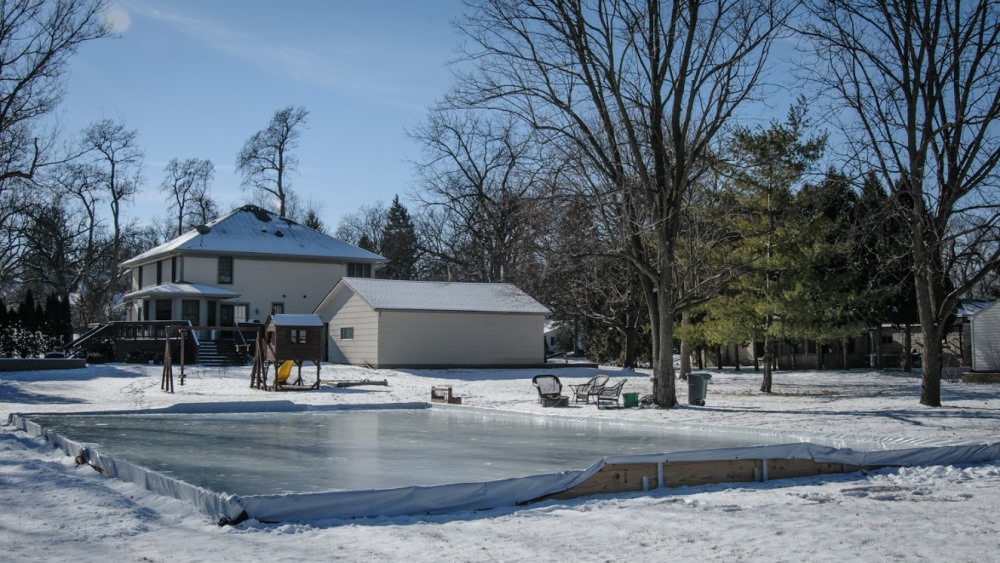 Although many enjoying this part of rink maintenance, it is still an essential. It is the key to keeping a smooth health glass like ice surface. There are many ways to resurface a rink. The first thing you need is a thorough snow shoveling. NEVER TRY TO CONVERT SNOW INTO ICE. Snow is an ice killer. Remove all the snow and coat with water. When coating the rink, be sure to not let the water puddle or pool. Some bring the hose out and spray a gentle layer of water on the ice. Others use a rake style resurfacer connected to a hose. I have used both of these methods and have since moved to a bucket style resurfacer for 2 main reasons. The first is that HOT water has better physical properties for ice making. It freezes faster and it makes smoother ice by melting away imperfections. Consider an NHL Zamboni, it uses steaming hot water...no hose attached. Hot water works miracles for smooth ice. The second is that managing a hose in the middle of winter is very challenging. Hoses get frozen, tangled and they crack in the cold. They have to be stored indoors. That is a hassle!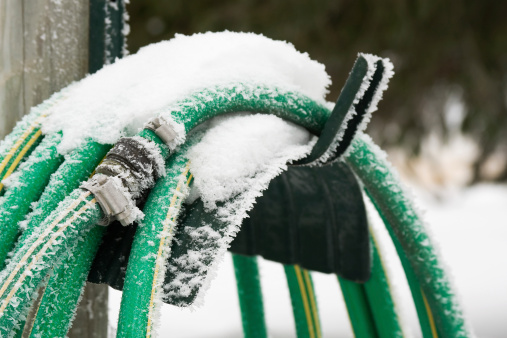 One other problem yet with hoses is that they actually melt a gully into the ice that you are trying to repair. It can be counter productive to use a hose if not done with a person managing the hose and one pulling along the resurfacer. I endorse the bucket style pull along resurfacing method . Call us for free directions on how to build a home made resurfacer or get a head start by buying the Iron Sleek Ice Rink Resurfacer Kit. Hoses in the middle of winter are a real pain. When you are bucket resurfacing, be sure to keep moving a a steady pace. This helps to lay a consistent layer of water for smooth ice. For a 40 by 60 rink, a 25 gallon bucket with the Iron Sleek resurfacer does the job. Use that as a reference when you decide what size bucket you chose to marry the Iron Sleek resurfacer. If you feel like splurging or have a bigger rink, buy a bucket with wheels. If you have a smaller rink, say 20 by 40, use a smaller bucket. Be sure to consider how you are going to handle the weight of the water. I put my 25 gallon bucket on a sled and pull it right onto the rink with a ramp I built so I could get over the boards right into the rink without lifting. Here is one more chance for you to put your (or your kids) signature on your rink.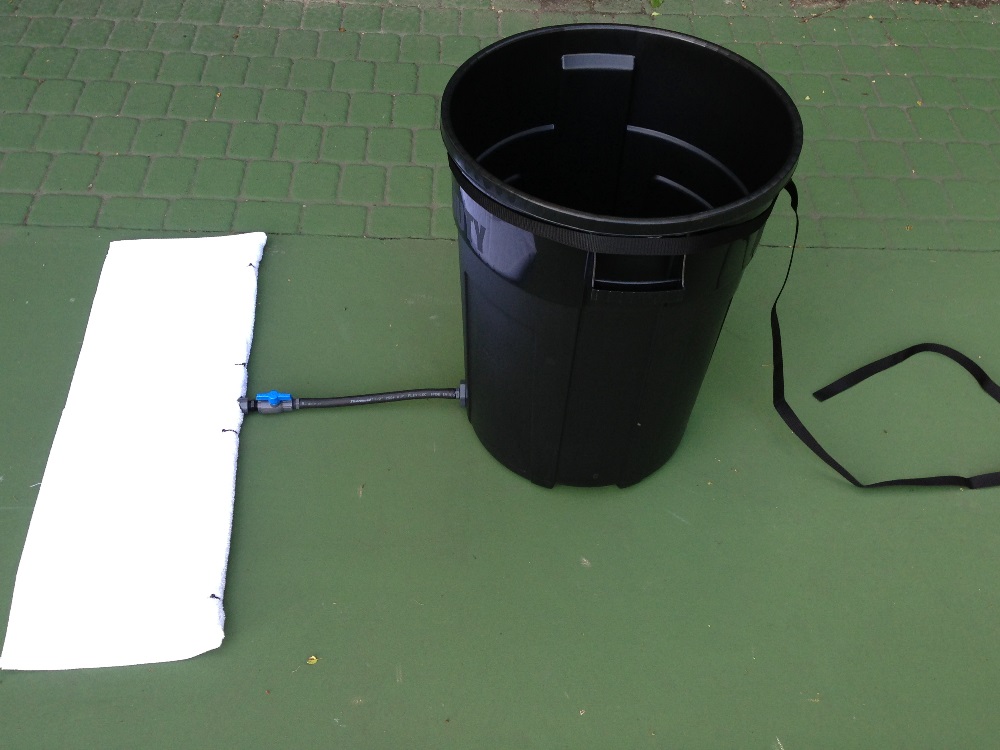 Your outdoor rink does not have refrigeration so it is recommended to only resurface when it is very cold out, say 24 degrees or less. It will only take 10 to 15 minutes to firm up as long as you do not make puddles. Puddles take hour to freeze so avoid making them. Think NHL for this, 24 degree Ice, 20 minute intermission! On more marginally days, you will soften your surface causing the rink to be unskatable so wait until night when you shut down the rink to recoat the rink. Let the cold winter night take it from there.
Other Challenges (Slush,Liner Leaks, leaves and twigs)-
Slush is definitely a rinkers frustration. Walking on slush is destructive to your rink surface becasue you will end up leaving the footprints of your favorite boots all over the ice. The answer here is PATIENCE. Wait patiently until you can walk on a hard surface and then shovel away any loose snow. Do not try to shovel slush off the rink as it is an exhausting effort that further complicates things. Slush formation is not healed in a single day. Start by shovelling loose snow, then resurface the rink and, finally, skate it. After you skate it, most of the air-filled-slush-freeze will be knocked off or scrapped away. When you are done skating, give the rink a thorough shoveling and resurface it with hot water a few more times. You should be right back on track, goodbye slush!!
Liner Leaks
If you have a liner leak that you can reach, the local pool store has what you need to patch the leak. That is, E6000 underwater glue. Use some underwater glue and an excess piece of liner as a patch. If you see the hole but cannot reach it, use hot water to cut through the ice so you can reach in to place the patch. Some leaks do not warrant fixing. If you have a slow leak nearing the middle to end of season, coat water in the area that is getting closest to exposing the liner. You can keep a rink with a small leak going by maintaing the top surface. Once again, your best bet is to use base cove foam since leaks most often occur at the board edges.
Leaves and twigs
This is real simple, pick up the leaves and twigs you can reach. If you are extreme, get white spray paint and paint the area where the leaves are embedded and then coat that area. This is not necessary, but it helps.
Rink Lines and Markings-
I do not recommend lines on an outdoor rink but if you choose to put in a blue line and a red line, use some extra white liner to cover them during the day. The sun will burn right through them if they are not covered.
---